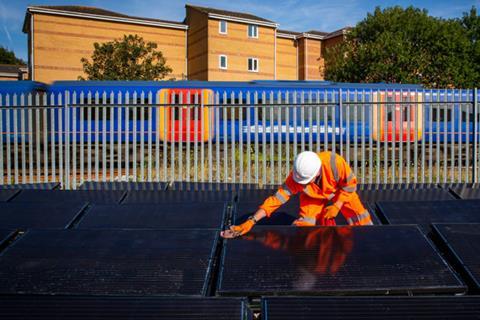 UK: Riding Sunbeams Ltd has installed a 30 kWp solar test unit with around 100 panels near Aldershot which is directly supplying electricity to power signalling and lighting on Network Rail's Wessex Route.
This will enable data to be gathered to assess how much larger solar arrays could be used to power trains.
Riding Sunbeams Ltd is a social enterprise set up by climate change charity 10:10 Climate Action and community energy association Community Energy South. It has estimated that power produced using community-owned solar farms could one day provide around 10% of the traction energy needed for the 750 V DC third rail network, without needing subsidy.
The demonstrator project is being funded by the Department for Transport through InnovateUK. Ricardo is monitoring the results, and working with the University of Birmingham to develop an in-depth understanding of energy production and use from the solar array. 'This is an extremely exciting project and opens up opportunities to utilise renewable energy technologies in ways not previously possible', said Colin McNaught, Project Director at Ricardo.
Riding Sunbeams hopes to build a full-scale 'community and commuter-owned' solar farm by the end of 2020. 'Helping to get the railways off fossil fuels in this way will cut running costs and benefit local communities at the same time as helping to tackle the climate crisis', believes director Leo Murray.
Stuart Kistruck, director of Route Asset Management for Network Rail's Wessex Route, said the infrastucture manager has ambitions to roll out the technology across the network should the demonstrator project prove successful.