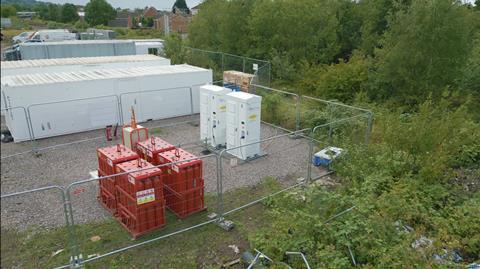 UK: The use of hydrogen to provide power for staff welfare compounds and to recharge battery tools and electric vehicles has been tested by Colas Rail UK's signalling team during a project in the Gloucester area.
H-Power Tower fuel cell stacks designed by AFC Energy to replace diesel generators at off-grid construction sites were used to provide power for Eco-Cabins supplied by Sunbelt Rental. The H-Towers were also used to recharge battery-operated equipment and electric-hybrid vehicles.
Colas Rail says this saved 1·4 tonnes of carbon across the eight-week period when compared to diesel power.
'What we've done here with the hydrogen is really showing how we can move towards completely eliminating fossil fuels from our worksites', said Colas Rail Carbon Manager Daniel Ditri.
He said charging electric vehicles is 'is really difficult and challenging, particularly on some of our remote sites where we don't have access to mains electricity sources', and the trial shows hydrogen could be used in the future.
Solar and wind hybrid powered lighting was also tested during the work.