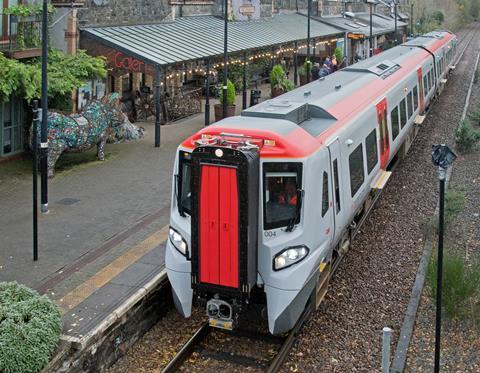 UK: The North Wales Transport Commission chaired by Lord Burns has published its interim recommendations for the development and delivery of an integrated multi-modal transport system in the region.
For the rail sector, NWTC supports proposed improvements at Chester station to enable additional services to operate.
On the North Wales Main Line, it says the priority should be service frequency improvements and supporting infrastructure works between Crewe and Llandudno. Improvements to signalling and line capacity from Llandudno to Bangor and Holyhead would require larger scale works, which should be planned so that they are ready to progress as and when funding is available.
Signalling and line capacity improvements are required along the Borderlands Line, the commission believes. A key constraint is the sidings for the Hanson site at Padeswood, where freight trains block the line for up to an hour, and the commission says this needs to be resolved before other work to improve the line can proceed.
There should be investment to reduce journey times and increase service frequencies between Wrexham and Liverpool to significantly increase the attractiveness of the route.
The commission says it has not seen a pressing case for full electrification of the Shrewsbury to Chester line, and the priority should be signalling improvements at Gobowen.
There could be merit in introducing increased frequencies on the Conwy Valley and Cambrian Coast lines during the peak season. Service enhancements and infrastructure improvements such as passing loops may be beneficial, 'as has happened to similar lines in Devon and Cornwall', but 'in the immediate future, those communities served by stations along the route should have access to enhanced bus services to reduce dependence on car use'.
NWTC 'is not persuaded' that there is a case for opening the line to Amlwch or between Criccieth and Bangor, and says 'more urgent improvements to existing lines and services should take a higher priority'.
The commission supports a new station at Deeside Industrial Park, and enhancements at Shotton to improve connectivity between the high and low-level platforms.
It says frequency enhancements should be prioritised over new stations, and fleet improvements should facilitate the frequency enhancements. It endorses the proposed use of Merseyrail's Class 777 battery-electric trainsets on the Borderlands Line.
The interim report was published on June 8, and the final report is to be published in the autumn.
Commenting on the interim report, Robert Cook, Wales & Western Lead at the Railway Industry Association, said it was 'a positive step towards delivering an efficient, high quality and sustainable transport network for North Wales'.