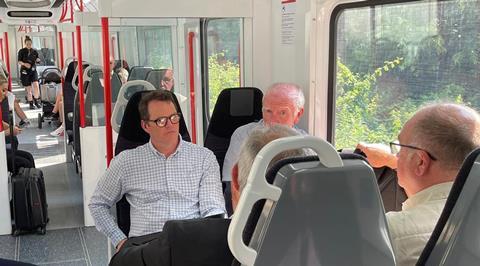 UK: Following a long period of disruption, the Welsh government's Deputy Minister for Climate Change Lee Waters has asked Transport for Wales Rail to develop a plan to improve services on the Wrexham – Bidston Borderlands line.
Earlier in the year, services had been suspended for a period as a result of a shortage of rolling stock, particularly the temporary withdrawal of much of the Class 175 DMU fleet. Trains resumed with a limited service on April 3 when the first of TfW Rail's Vivarail Class 230 diesel multiple-units began operating a two-hourly timetable.
However, since then delays and cancellations have continued and concerns have mounted over the reliability of the Class 230s and their ability to keep to a very demanding timetable, with sets having regularly failed to complete a full day's diagram.
A full hourly timetable using additional Class 150 DMUs is now in place, but the services continue to struggle to run to time. Trains typically only have two or three minutes of turnround time at each end of the journey, and with delays increasing through the day time is often made up by terminating short at Wrexham General rather than Central.
Taking a trip on the line on June 15, Waters discussed the problems with passengers and members of the Wrexham – Bidston Rail Users' Association before meeting leaders of Flintshire and Chester & Cheshire West councils.
'It is fair to say there have been a number of challenges for rail services in Wales in recent months and the issues on this line have not been good enough', he said on June 14. 'I wanted to take time to travel on the line today to see first-hand some of the frustrations passengers are facing on a daily basis.
'We like to celebrate success, but it is also important for us to hold our hands up when things are not good enough.'
Frustrating few months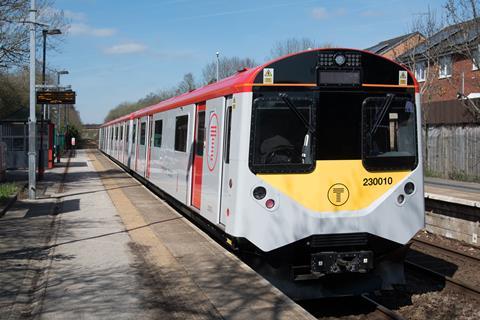 TfW Rail Managing Director Jan Chaudhry-Van der Velde said it had been 'a frustrating few months for passengers' on the line.
He said 'first the line lost its train service, with replacement buses running, due to the withdrawal of a significant part of our train fleet caused by engine safety problems.
'This led to an extensive repair programme being required. This was followed by the introduction of refurbished Class 230 trains on the route, which has seen teething problems with rolling stock technical issues and poor timekeeping. We apologise to passengers on the line for these problems.
'We are putting in place a series of initiatives to get the line back to reliable train service, focusing on stabilising the new rolling stock reliability and traincrew familiarisation in the first instance.
'Once this is accomplished, we can start to plan a higher frequency service. The refurbished Class 230 trains represent a step improvement in train quality for the line, and we are confident they will deliver the aspirations of stakeholders and customers as we work through the plan.'