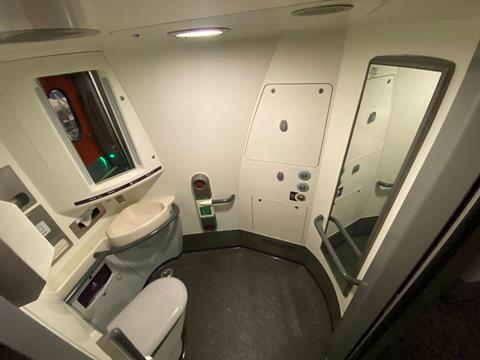 UK: The 162 toilets on East Midlands Railway's Class 222 inter-city diesel multiple-unit fleet are being treated with Coatings Tech's Cotech BioSafe protective coating incorporating Microban antimicrobial technology.
Coatings Tech has previously applied its Cotech Clear Coat Easy Clean product for the outside of EMR trains, and said the latest project is the first rail application of the BioSafe coating with Microban.
The supplier said the coating technology provides a protective layer which actively resists microbial growth for up to eight years, helping to prolong the life of train fittings.
'We are excited to collaborate with Coatings Tech on this project, and to see our antimicrobial technology being used for this innovative public transport application', commented Graham Harvey, Global Group Director at Microban. 'We believe the additional surface protection offered by this unique coating will deliver much needed reassurance for both commuters and train operators alike.'