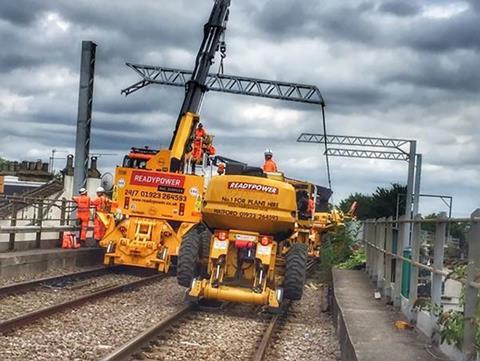 UK: Routes to Zero Carbon Rail is the theme of the Railway Industry Association's next Unlocking Innovation webinar series, which is being held in partnership with RSSB.
The 90 min events, which are open to all, will be held at 14.00 each day from October 19 to 22.
The sessions will look at how the industry can accelerate electrification, develop zero-carbon rolling stock, make maintenance and operations sustainable, and support rail's role in the wider push to reach net zero carbon emissions.
Date
Subject
Speakers
October 19
Driving electrification: more cost-efficient electrification of the network
Helen McAllister, Strategy & Planning Director Wales & West, Network Rail
Traction Decarbonisation Network Strategy
Justin Moss, Siemens; and Richard Stainton, Network Rail
October 20
Decarbonising self-powered rolling stock
Mike Edwards, Motive Zero; Jonathan Brown, Ricardo Rail; Chris Smith, G-Volution; and Matt Candy, Steamology
October 21
Zero carbon Operations, Maintenance and Renewals
Howard Lungley, Sustainability Lead, Frazer Nash; and Janet Dunnett, Programme Development Manager, Network Rail
October 22
Generation decarbonisation – exploring rail's wider role in the national push for net zero emissions
Russel Fowler, Senior Project Manager, Transport Decarbonisation, National Grid; David Horsfall, Director, Tyseley Energy Park; Andrew Kluth, Lead Carbon Specialist, RSSB
'As a sector we have ambitious but achievable decarbonisation targets which we need to meet if the UK is to reach net-zero by 2050', said RIA Technical Director David Clarke.
'These events will bring together key innovators and decision-makers to showcase some of the leading green innovations in rail which are being developed and implemented across the country.'