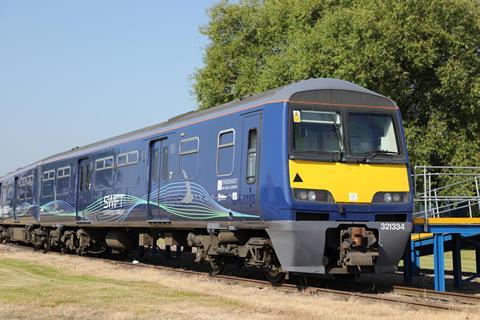 UK: Varamis Rail has leased a Class 321 Swift Express Freight electric multiple-unit from Eversholt Rail to operate five nights a week between Birmingham and Glasgow for a major parcel carrier.
Varamis Rail Managing Director Phil Read said the company's aim was to be 'the UK's newest and greenest train operator'.
The Swift Express Freight concept is based on converting redundant Class 321 commuter EMUs to carry light freight such as parcels as an environmentally friendly alternative to lorries.
The Class 321 is a proven design which is well understood across the industry. It offers a maximum speed of 160 km/h and the ability to operate to freight terminals, ports and city centres almost anywhere on the 25 kV 50 Hz electrified network
Eversholt Rail has committed to converting a further four units, with the work being carried out by Gemini in Wolverton for completion by the end of 2022.
Eversholt said negotiations continue with multiple operators, and leases are expected to be agreed in the coming months.
'We are delighted to be working in partnership with Varamis', said Client Services Director Paul Sutherland on October 10. 'We share a vision to decarbonise the transportation of goods, encouraging modal shift from road to rail whilst contributing towards the UK government's ambition to decarbonise the rail sector by 2050.'