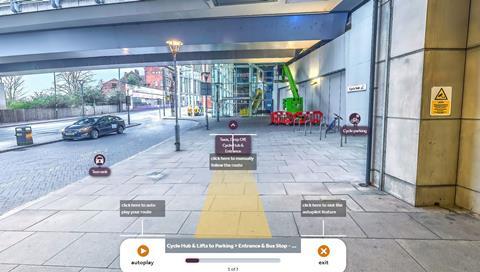 UK: East Midlands Railway has worked with Virtual Tour Experts Ltd to create online navigation guidance to help passengers with journeys through Derby, Sheffield, Nottingham, Lincoln and Kettering stations.
Users can access information about all of the public areas in each station, including toilets, customer service desks, platforms, car parks and drop-off locations.
An autopilot tool enables users to select their desired destination within each station and be automatically guided to it. Alternatively, they can choose manual navigation through a series of clicks.
Feedback was provided by EMR's Accessibility Panel, a group of disabled customers who regularly engage with the train company.
'Virtual maps of EMR stations are going to make such a difference to passengers - especially disabled passengers', said panel member Georgie Hill-Jones on August 3. 'Having the ability to understand the layout of the station ahead of time will enable them to make better decisions about their time there with less anxiety and more confidence.'