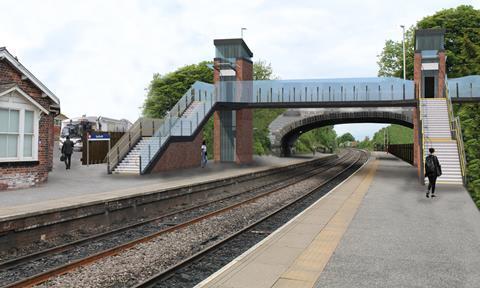 UK: Work is to begin this month on the construction of the first footbridge to the 'Beacon' design, named for its illuminated lift shafts.
Due to be completed by April 2024, the first bridge will provide step free access at Garforth station in West Yorkshire.
The Beacon design was devised by Haskoll Architects, engineering consultancy Davies Maguire and Gottlieb Paludan Architects as a modern interpretation of the traditional railway footbridge, and according to Network Rail expresses 'structural elegance'.
Primarily aimed at smaller stations, it features a high degree of enclosure and transparency. The bridge is suitable for spans of up to 20 m, and the design is adaptable for locations with multiple spans or staggered platforms.
'The Beacon bridge has been designed with increased focus on people and place', explained Network Rail's Senior Sponsor Chris Wright on May 9. 'The structure appears lighter than traditional designs, with the glass deck and stairs preserving views of the adjacent listed road bridge. More crucially, it will deliver the long-awaited step-free access that Garforth needs and deserves.'
The current Grade II listed footbridge at Garforth has been donated to the Bredgar & Wormshill narrow gauge railway in Kent.