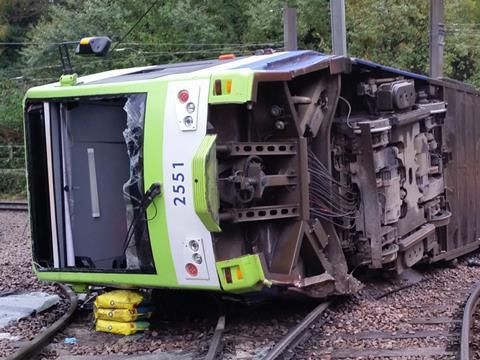 UK: The Rail Accident Investigation Branch made 15 recommendations to improve safety on December 7 when it published its report into the overturning of a tram at Sandilands in Croydon, south London on November 9 2016.
RAIB found that the Bombardier CR4000 tram had been travelling at 73 km/h as it approached a curve with a 20 km/h speed limit. This caused it to overturn and then slide on its side. Seven of the 69 passengers died and 61 were injured in the worst British tramway accident for more than 90 years.
RAIB concluded that it was probable that the driver temporarily lost awareness on a section of route where his workload was low. A possible explanation was microsleep linked to fatigue, although 'there is no evidence that this was the result of the shift pattern that he was required to work.' It was also possible that as the driver regained awareness he became confused about his location and direction of travel.
The 15 recommendations are that:
The Office of Rail & Road and tram industry should develop a body to enable more effective co-operation on safety and standards.
Operators, owners and infrastructure managers should jointly conduct a systematic review of risks.
Operators, owners and infrastructure managers should review, develop and provide a programme for installing measures to automatically reduce speeds when approaching higher risk locations.
Operators, owners and infrastructure managers should evaluate systems capable of detecting driver attention state and initiating automatic responses if a low level of alertness is identified. If found to be effective, a plan should be developed for such devices to be introduced.
Operators, owners and infrastructure managers, in consultation with the Department for Transport, should work together to review signage, lighting and other visual information cues available on segregated and off-street areas. Consideration should also be given to providing in-cab warnings.
In consultation with manufacturers and other European tramways, operators and owners should, identify means of improving the passenger containment provided by windows and doors.
Operators and owners should install or modify emergency lighting so that it cannot be unintentionally switched off.
Operators and owners should review options for the rapid evacuation of a tram lying on its side.
ORR should carry out a review of the regulatory framework, informed by a new assessment of risk and allowing for low frequency/high consequence accidents.
FirstGroup's Tram Operations Ltd and TfL's London Trams should commission an independent review of its process for assessing risk.
Tram Operations Ltd, drawing on expertise from elsewhere in FirstGroup, should review and where necessary improve its management of driver fatigue risk.
Tram Operations Ltd should create a 'just culture' in which staff are more likely to report safety concerns; establish a common understanding of what constitutes a safety incident when reported by the public or that should be reported by staff; ensure that safety issues are properly identified from any reports; and improve processes to ensure that outcomes are fed back.
Tram Operations Ltd and London Trams should improve processes for following up public and employee comments indicating a possible safety risk.
London Trams, in consultation with Tram Operations Ltd, should improve processes for maintaining CCTV.
London Trams, in consultation with Tram Operations Ltd should revise existing maintenance and testing documentation.
'Our careful analysis of the evidence, and identification of the causal and underlying factors, has enabled us to make a number of far-reaching recommendations', said Simon French, RAIB's Chief Inspector of Rail Accidents. 'These will have a lasting impact on the way that the tramway industry manages its risk.
He said tram operators had been aware of the focus of the recommendations for many months, and he was 'very encouraged by the progress that has already been made in addressing the recommendations and the collaborative approach that is being taken.'
TfL said measure taken since the accident included additional speed restrictions and signage at four locations, lowering the maximum speed across the network from 80 km/h to 70 km/h, installing an in-cab device to protect against fatigue and distraction, replacing the onboard CCTV, testing options to improve containment, exploring options to improve emergency lighting, reviewing evacuation procedures and revising risk assessments.
Development of an in-cab driver alert system for monitoring and managing speed was underway.
FirstGroup CEO Tim O'Toole said RAIB had 'concluded that management of fatigue was not a factor in the incident, nor did a speeding culture contribute to it'. He said over the past year FirstGroup had 'taken a series of actions, working closely with Transport for London on whose behalf we operate the system, to implement additional measures including enhanced speed monitoring and restrictions, improved signage and renewed guidance on fatigue management.'