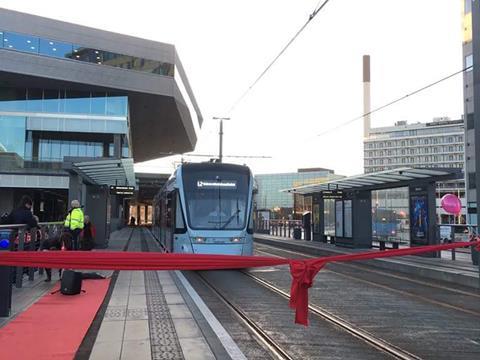 DENMARK: The first modern light rail line in Denmark opened on December 21, with the start of services on the initial section of the Aarhus Letbane network. Final approval for the opening had been received the previous evening, following a series of delays, and the ceremony at Hack Kampmanns Plads at 10.15 was followed by a day of free travel.
The 12 km Phase I runs through the city between Aarhus H railway station and Lystrup, but initially the trams are only serving the 6·5 km from Aarhus H to Universitetshospitalet with 10 intermediate stops. There are six services per hour in each direction, operated by Keolis.
Following studies by COWI and Systra, legal powers enabling the construction of the line were granted by parliament in May 2012. In July 2014 project promoter Aarhus Letbane selected a consortium of Stadler and Ansaldo STS for a turnkey contract to build and equip the line.
Stadler Pankow has supplied 14 Variobahn trams similar to vehicles delivered to Bergen and Croydon. The Aarhus fleet is customised to take into account the damp climate, with additional corrosion protection and high-performance air-conditioning to keep the large windows free of mist.
A date has still to be fixed for the opening of the next phases of the project, which will see the commissioning of the Universitetshospitalet - Lystrup section and the launch of tram-train services running through from the urban tramway onto regional railway routes. The tram-train services will run 26·5 km south to Odder and 69 km northeast to Grenaa, and will be be operated using 12 Stadler three-section Tango tram-trains similar to vehicles operating in Lyon and Stuttgart.
Ricardo Certification has acted as independent safety assessor for the Letbane project. 'Delivering a seamless new transportation system that integrates new track with existing lines presents a range of challenges, and we were pleased to be able to fulfil the crucial role of independent safety assessor', said business manager Thomas Rasch.
A feature article on the Aarhus light rail project appeared in the September 2013 issue of Metro Report International, which is available to subscribers in the digital archive.