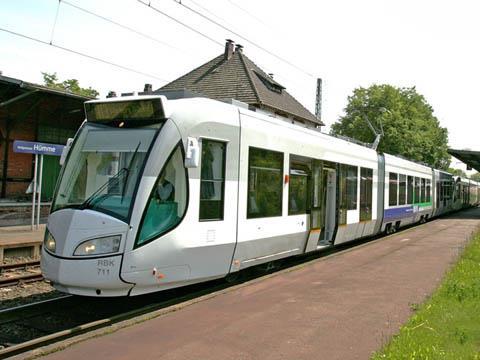 DENMARK: Legal powers enabling the construction of Denmark's first modern light rail line in Aarhus were approved by parliament on May 8.
The Aarhus Letbane joint venture of the municipality, Ministry of Transport and Midtjylland region can now be formally established as project promoter, and the tendering process launched.
Transport authority Midttrafik says the project to introduce tram-train services on two regional railways linked by a city-centre tramway is heavily inspired by Kassel in Germany.
Phase 1 includes the construction of a 12 km double-track tramway running from Aarhus H station, along Randersvej via the University Hospital in Skejby and the Lisbjerg development area to Lystrup. This will link the existing regional railways running 26·5 km to Odder in the south and 69 km northeast to Grenaa, which are to be modified to accommodate tram-train services. Future plans include a branch to Lisbjerg West
Contracts are to be awarded in three packages. Civil works will be tendered as two framework contracts expected to be worth a total of €60m to €100m. A negotiated design and build contract covering railway systems and rolling stock is valued at €150m to €180m. A final package will cover operations.
Two types of rolling stock will be required, with 70 km/h trams for the city section and 100 km/h tram-trains for the longer distance routes. Options being considered include full electrification, or the procurement of a mix of 750 V DC trams and electro-diesel tram-trains. If full electrification is adopted, a catenary-free system may be chosen for the harbour-side section.
Construction is scheduled to begin in June 2013, with opening planned for August 2016.
Studies for the project have been undertaken by COWI and Systra. German BOStrab light rail regulations will be adopted, and Lloyd's Register EMEA has been appointed independent safety assessor.