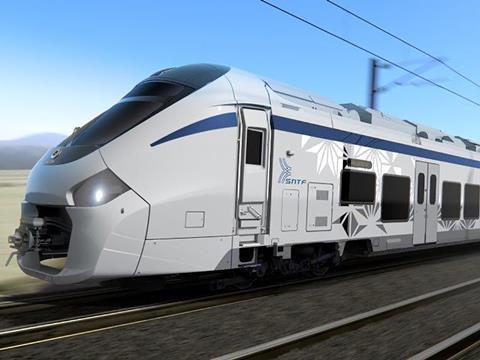 ALGERIA: National railway SNTF and Alstom have revealed the final design for the 17 Coradia Polyvalent electro-diesel multiple-units which are under construction in France for use on inter-city services between Alger, Oran, Annaba, Constantine and Béchar from January 2018.
The SNTF units will be similar to the Coradia Polyvalent units operated by France's SNCF under the Régiolis brand, but adapted for local conditions including protection against sand and 'highly efficient' air-conditioning.
The six-car units will be 110 m long with a capacity of 254 passengers. They will have a maximum speed of 160 km/h, and be capable of operating from 25 kV 50 Hz electrification or by the six 350 kW diesel engines per unit.
The styling was developed by Alstom's Design & Styling department in collaboration with SNTF and aims to evoke the 'modernisation, movement and beauty' of Algeria's landscapes, according to Henri Bussery, General Manager of Alstom Algeria. The exterior will feature a 'subtly reflective' coating to reflect the cities, countryside, coasts and mountains that the trainsets will pass. The air-conditioned interior is 'spacious and bright', with comfortable seating and a dining area.
SNTF placed the €200m order for 17 units in July 2015. They are being manufactured at Alstom's Reichshoffen site, with the bogies supplied from Le Creusot, motors from Ornans, traction systems from Tarbes and on-board electronics and passenger information systems from Villeurbanne.
'The project is underway and is progressing extremely well at full speed', said SNTF Managing Director Yacine Benjaballah on February 27. 'This train will become a national asset, satisfying the needs of our passengers who will be proud to use it.'