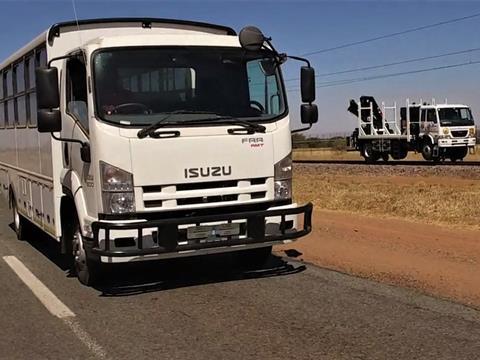 SOUTH AFRICA: Gauteng-based manufacturer RailPro is testing a road-rail vehicle intended for passenger transport on a railway line east of Pretoria.
State-owned transport group Transnet is working with RailPro on the trials, which are being carried out on a 21 km route between Cullinan and Mamelodi via Rayton. Five RailBus vehicles are being used for the proof of concept, ahead of a more detailed feasibility study.
The RailBus is built on the chassis of an Isuzu 8 tonne lorry. It has retractable wheels so that it can run on rail, in addition to rubber-tyred wheels for road use. Isuzu has expressed interest in producing the vehicle at its South African plant, and Tata and Volvo subsidiary UD Trucks have issued standard warranties for RailPro's designs.
The prototypes have been developed with the aid of a grant from the SAB Foundation. RailPro envisages that future costs could be met through social impact funding or crowdfunding.
RailPro CEO Ed Magan believes that the RailBus would be suitable for many South African railway branch lines, where heavier locomotive-hauled stock is expensive or difficult to operate. He points out that 4 000 route-km of the 9 000 km of largely unused 1 067 mm branch lines are still in usable condition.
The company envisages both rural and urban applications, and hopes eventually to win export orders. It says that the vehicle can run for up to 6 km per litre of diesel when on rail, leading to fuel cost savings of up to 50% compared with a conventional diesel bus.
Once the RailBus concept has been tested, RailPro intends to test a RailFreighter, which would offer a similar concept designed for farmers bringing produce to market.