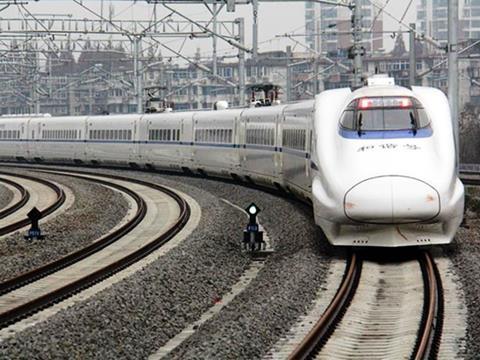 CHINA: Researchers at Xi'an Jiaotong-Liverpool University's Suzhou campus have developed an algorithm intended to optimise the storage and reuse of braking energy.
Currently, regenerative braking is used extensively across China's 29 000 km high speed network. Typically, the energy is returned to the grid by trains under braking, and reused by accelerating trains within close physical proximity. Yet when no train is nearby, the energy is mostly wasted. The XJTLU research suggests that much more use could be made of onboard energy storage instead. This would enable trains to harness and reuse braking energy themselves rather than returning it to the power grid. Such an approach would yield the greatest benefit where the train's performance and energy consumption could be optimised, but manual driving techniques make this difficult because the driver's decisions about acceleration and braking inevitably lead to unnecessary energy use.
The XJTLU algorithm addresses two key factors. It pinpoints when trains should accelerate and decelerate to best optimise energy use. It also sets rules for how onboard energy storage units should be charged and discharged to ensure the most efficient operation. 'By adopting this approach, trains with onboard energy storage devices could save 10% more energy than those without', says Lead Researcher Chaoxian Wu.