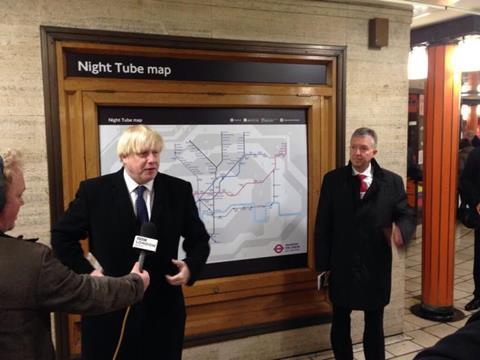 UK: A 'vision for the future' of the London Underground was set out by Mayor of London Boris Johnson and London Underground Managing Director Mike Brown on November 21.
The proposals include running some services throughout the night on weekends and the redeployment of station staff. Transport for London says the proposed changes will result in savings of £50m per year.
'Now it is time to take the Tube to the next level and so for the first time in London's history, we will provide a regular 24 h "Night Tube" service at weekends', said Johnson. 'This will not just boost jobs and our vibrant night-time economy, it will further cement London's reputation as the best big city on the planet to in which to live, work, visit and invest.'
All-night services would be introduced on Friday and Saturday nights in 2015. Services would initially run on the Victoria, Jubilee, Piccadilly, Central and Northern lines, but may be expanded to other routes 'in subsequent years'.
Noting that ticket offices are used in less than 3% of passenger journeys, Johnson and Brown propose that station staff should in future be redeployed to assist passengers in the ticket halls and on platforms. More ticket machines are to be installed, and staff would be equipped with mobile devices to monitor station systems. Wi-fi coverage is to be introduced on all underground stations that do not currently have it by the end of 2014 with the exception of four stations that are currently being upgraded.
London Underground proposes to classify its stations into four categories from 2015:
Gateway. The main visitor entry points to London, with a high proportion of people unfamiliar with the network. These would have enhanced visitor information centres and 30% more ticket hall staff than are currently provided.
Destination. Busy city centre stations would have 30% more ticket hall staff than at present.
Metro. Predominantly inner-city stations with many regular users.
Local. Smaller stations, predominantly in outer London that have lower passenger numbers.
Contactless bank card payment will be rolled out from 2014; this is already operational on TfL's bus services. Other changes to ticketing include 'automatic completion' of journeys when passengers do not touch out with an Oyster card and introducing personalised customer accounts on the TfL website to provide tailored information.
Other proposed improvements include reducing delays by a further 30% from 2011 levels by 2015, and providing step-free access at 27 Underground and London Overground stations over the next eight years.