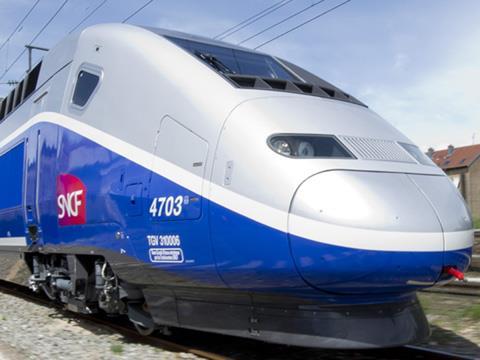 FRANCE: On September 7 Voyages SNCF CEO Rachel Picard and Alstom France President Jean-Baptiste Eymeoud officially opened the shared workspace in Paris that is home to a 20-strong team from Alstom and SNCF, working to develop the next generation of the TGV.
Due to enter service in 2022, France's future high speed trainset will offer 'a real breakthrough in terms of competitiveness', according to the project partners, reducing costs while offering passengers 'a new experience' in comfort and onboard services.
The project aims to reduce acquisition and operating costs by at least 20%, with the 'material recyclability rate' increased to over 90% and energy consumption reduced by at least 25%. The next-generation TGV is expected to offer a 20% increase in capacity, based on a more modular interior while at the same time offering passengers improved onboard services and connectivity.
Work to define the specification is due to be completed by the end of 2017. Detailed design, production of a prototype and approval is expected to take approximately four years, with series production and deliveries enabling the new design to enter commercial service in mid-2022.
SNCF is making available around 250 staff to support the project, including its engineering centre at Le Mans. Alstom says that the results of this programme will complement its Avelia range of high speed trains, developed in part under the 'TGV of the future' programme co-funded by the French government.