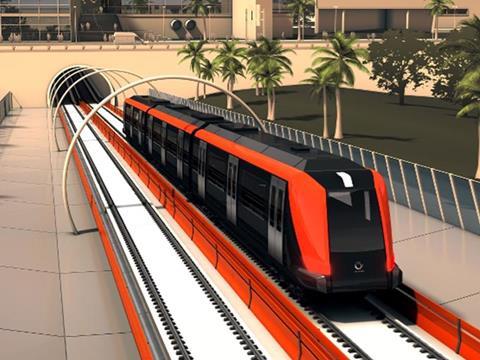 INTERNATIONAL: Alstom Transport Chief Executive Henri Poupart-Lafarge launched the Axonis mini-metro concept at the UITP Mobility & City Transport Exhibition in Genève on May 27.
Intended to make extensive use of modular construction elements, Axonis is targeted at cities seeking to develop an automated metro network more quickly and at lower cost than is typically required for conventional metros. Intended for use on routes carrying up to 45 000 passengers/h per direction, Axonis would use a cost-effective precast guideway with minimum curve radii of 45 m, enabling an elevated alignment to follow the street layout of many urban areas.
The elevated guideway would use 1 600 mm diameter piles to support 30 m long box-girder spans to give a structure which would be no more visually intrusive than that for a monorail, Alstom says. Axonis can also be adapted for surface and underground alignments, the company adds.
Alstom's Appitrack mechanised tracklaying method, initially developed for urban tramways, would also be employed to speed construction, enabling around 150 m of standard gauge track to be completed per day, an increase of around three times on established practice. Axonis would also make use of modular elements from the Metropolis metro car range to develop vehicles with a smaller cross-section; Alstom's Urbalis CBTC train control and Hesop wayside energy recovery technology also form part of the concept.
Alstom is currently in negotiation with a number of potential customers and hopes to finalise an initial contract by the end of the year. The company says that Axonis would be offered on a non-proprietary basis, enabling cities to extend or increase the capacity of their networks in the future through competitive tendering.