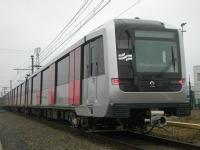 NETHERLANDS: Amsterdam municipality has awarded Alstom a €100m contract to resignal the 43 km four-line metro network and supply signalling for the North-South line which is currently under construction.
The contract announced on April 5 covers signalling, train control and train supervision systems and associated communications. Alstom said its Urbalis radio-based CBTC signalling would enable automatic train operation, increase capacity and save energy.
Roll-out will begin with Line 50, the Ringlijn, in April 2015, and be completed by 2017. Work is to be done at night, and according to Alstom will not disrupt operations.
The 23 Metropolis trainsets currently being delivered by Alstom under a separate €200m contract are expected to begin entering service later this year.