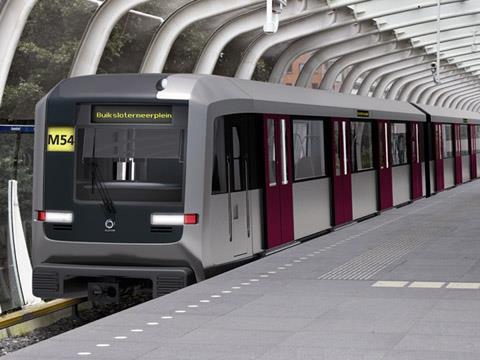 NETHERLANDS: Alstom announced a €42m firm order to supply a further five Metropolis trainsets for the Amsterdam metro on February 13. The order is an option on a €200m contract for an initial 23 trains signed in February 2010. The additional units are to be delivered from Alstom's Katowice plant in Poland during the second half of 2014.
The six-car Type M5 trains will be 116 m long, with capacity for 960 passengers. They will have LED lighting, a maximum speed of 80 km/h and be equipped for future driverless operation.
Meanwhile, transport authority Stadsregio Amsterdam is consulting suppliers to assess the feasibility of acquiring short metro trains. These would be required to be less than 78 m long, and preferably no longer than 62·5 m.
Stadsregio Amsterdam expects that adding shorter units to the fleet would enable more efficient and flexible operation, but any decision to pursue this plan would depend on the ability of the supply industry to provide trains meeting its functional requirements.
The authority is considering combining any order with an earlier than planned replacement of M4/S3 two-car articulated units 30 m long which were supplied by CAF in the 1990s. The total order would be around 15 to 25 trains, with entry into service around 2018.