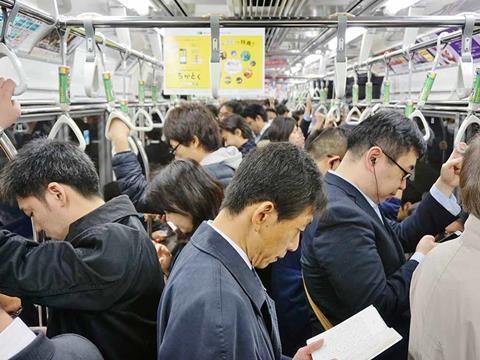 What would it take to make you change a daily habit? A small monetary incentive? Perhaps the more tangible reward of free food would do the trick.
Tokyo Metro is pinning its hopes on the latter as it undertakes a two-week trial that could see commuters receive gifts of tempura and soba noodles if they change the times of their morning journeys. The operator hopes that it can thus reduce overcrowding during the peak on one of its busiest lines.
While Tokyo is famous for metro passengers being packed together like the grains in a block of sushi rice, the Japanese capital is not the only city that has to manage overcrowding on its transport network. It should therefore come as no surprise that offering incentives for travelling outside peak hours is not a new idea.
Singapore inspires San Francisco
An extensive trial of this approach was undertaken in Singapore between 2013 and 2017. A Land Transport Authority initiative offered free rides to some passengers travelling early and a small discount for those journeying a bit later but still avoiding the peak.
Although the scheme attracted less media attention than it perhaps would have done if the rewards were in the form of nasi lemak or roti, it did not go unnoticed. San Francisco's BART said that the pilot was the inspiration behind its own BART Perks programme, which ran from August 2016 to February 2017. Here, routine small monetary rewards were augmented by a chance to win much larger ones. Unlike the schemes across the Pacific, the rewards were not limited to passengers using certain stations, but worked on the principle of awarding points per mile travelled.
Do the measures work?
Tokyo Metro should be encouraged by the fact that the trials in both San Francisco and Singapore had a noticeable effect. Of the 2 600 participants travelling on BART between 07.30 and 08.30 before the programme, 250 changed their travel patterns on an average day during the trial. Furthermore, the total number of participants was nearly twice the expected figure, suggesting that the public is open to such schemes.
In Singapore, the trial led to a sustained 7% shift away from the morning peak, even as overall ridership grew. This resulted in a more even distribution of ridership, with the ratio of peak (08.00–09.00) to pre-peak (07.00–8.00) travel falling from 2·7 to 2·1.
Working with employers
An LTA survey found two-thirds of those who had not shifted their travel patterns said this was because they did not have flexible work arrangements. In response, LTA is working with employers to encourage flexible working under the Travel Smart Network.
This underlines that an operator can only do so much by itself. It is notable that in neither San Francisco nor Tokyo were the crowding reduction initiatives undertaken in isolation. BART and the San Francisco County Transportation Authority offered technical assistance and extra rewards to the 15 employers that signed up as BART Perks Partners to promote the programme among their employees.
The free food offered by Tokyo was launched at the same time as a separate initiative by the Tokyo Metropolitan Government, which is working with nearly 1 000 businesses that are allowing employees to work different hours or work from home.
An Olympic effort
After the pilot in Singapore ended in late December 2017, a modified fare structure was introduced that offered cheaper off-peak fares. This decision was informed by a trial of a monthly off-peak pass. Although this did not have a large effect on passenger behaviour, it still proved useful in understanding how differentiated fares can shape travel patterns.
Differential pricing is, of course, standard practice in many cities. While this can be seen as a sign of its effectiveness, it is clear that further measures need to be taken in many cities. This is especially true during times when even more people travel than normal.
Tokyo may well have to introduce additional crowd prevention measures next year when the Olympic and Paralympic Games come to town. Luckily, it can learn from other cities. London Underground coped better than many observers expected during the summer of 2012, when that city hosted the Olympics. Passengers were encouraged to change their travel patterns, and it seems that many actually did so — at least for a few weeks.
Bringing about longer-term changes in passenger behaviour can be more difficult, however. It remains to be seen how much of an effect the efforts in Tokyo will have, but it is a good bet that any significant impact would require many chefs to be busy for some time.