Data, automation and new models of transport were just some of the talking points at Transport Research Arena 2018.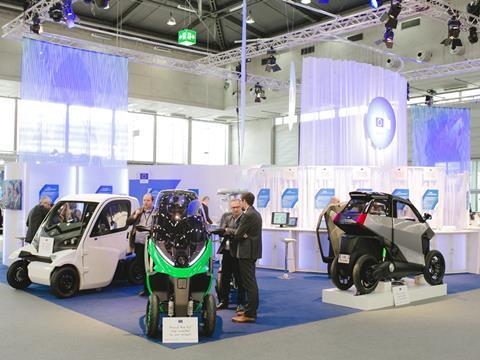 'Do not think about cars. Do not think about trains, or roads or ports. Think about people.' The end of EU Transport Commissioner Violeta Bulc's speech at Transport Research Arena hinted at a thread running through the four-day event, namely the increasing interconnectedness of various transport modes and the need to move away from thinking in silos.
The conference welcomed a total of 3 540 delegates in Wien on April 16-19. The event included an exhibition and an 'Industrial Round Table' which brought together representatives from several transport sectors' supply industries.
Subtitled 'A Digital Era for Transport — solutions for society, economy and environment', the conference was structured around 12 themes, covering all transport modes from walking to aeronautics. The organisers pulled out digitalisation and decarbonisation as two key topics, but several more emerged as the presentations were given.
Henrik Hololei of DG Move identified the trends driving transport innovation as digitisation, automation and ageing populations. Austrian Transport Minister Norbert Hofer used his opening address to highlight his belief that telecoms technology is the key to transport innovation. Philippe Crist of the OECD's International Transport Forum made the case for thinking not about technology in itself, but to start with the uses to which it will be put. Many technologies in use today were originally developed to solve problems that we do not even think about any more.
Pollution problem
Bulc opened her speech with some statistics: the transport sector creates 5% of jobs and 5% of GDP in the EU. But she contrasted these with a less upbeat number: transport is responsible for 24% of pollution, making it the second-largest polluter in Europe. Bulc said that TRA needed to address problems such as these, and pointed to new technologies being developed in aviation as examples of what can be achieved in other transport sectors.
On the topic of innovation, Bulc suggested that this is what happens at the edges — for example, when different technologies or business models join together. This is one reason why the transport industry needs to be more balanced, including in terms of gender. She also had a message for young people: 'keep dreaming, because you need to create the world you want to live in'. She sees young people as able to bring 'excitement, innocence and boldness' to what can be a complacent industry.
In his keynote, The Futures Agency CEO Gerd Leonhard revealed some interesting insights into the future of transport. 'Business as usual is dead' was one of the most resonant messages, underlined by the importance of collaboration over competition as a driver of success.
Leonhard sees two big shifts in mobility: from internal combustion to electric vehicles, and from human-driven to autonomous. A less pronounced trend is that which is taking people away from private vehicles and towards mobility as a service. He describes MaaS as an 'ecosystem' rather than an industry in the traditional sense, which is the way that several sectors — not just transport — are moving.
Cars are public transport
MaaS, along with related topics such as car-sharing, recurred in several sessions during the conference. Remy Le Boennec of the VEDECOM research institute even went so far as to say that cars are the public transport of tomorrow. He noted that public transport's traditional competition with private cars is coming to an end as the modal share of public transport is no longer growing in large European cities.
A concrete example of what car-sharing can achieve was given by Michael Glotz-Richter from Bremen's Environment, Construction & Transport office. Each shared car in Bremen takes 16 private cars off the road, and so far the city has removed 5 000 private cars by offering shared vehicles. The increase in car-sharing is transforming car companies from vehicle producers to mobility providers.
Maria Kamargianni from University College London presented the results of a 'Mobility as a Service Maturity Index'. Interestingly, this found that London is more ready for MaaS than the West Midlands, but the latter region has recently introduced MaaS, through the Whim platform, while London does not yet have anything of the sort. London's approach to the changing mobility landscape was also picked up by her fellow UCL researcher Tom Cohen. Making the point that city authorities' need for caution leads to a markedly different approach from that of companies like Uber, he suggested that traditional ways of drawing up regulations are not necessarily appropriate when faced with fast-moving entrepreneurs. One solution might be experimental regulation, where rules are made more quickly but can be adapted or simply revoked just as quickly.
Access for all
French national railway SNCF was another contributor to the discussion on new mobility. Chief Innovation Officer Carole Desnost sees a need to understand how passengers might use non-traditional transport services, and to prepare for their arrival: 'we sometimes need to have a disruptive way of thinking and reinvent ourselves'.
Desnost's colleague Nicolas Renoir, meanwhile, told delegates how SNCF is using data from OpenStreetMap to develop apps to help people with reduced mobility to navigate stations. The aim is 'seamless mobility for every passenger'. The importance of station accessibility is greater than many realise: half of French rail users have reduced mobility, if taking into account passengers with pushchairs and heavy luggage.
The closing session featured a handover ceremony to TRA 2020 host city Helsinki. Finnish Transport Minister Anne Berner listed the four trends that she thinks will have the greatest impact on the future of transport. These are digitalisation, the speed of technological development, the effects of urbanisation and how we deal with climate change. With the second of these trends in mind, the next edition of the conference is likely to be just as thought-provoking.