The 2018 FIFA World Cup highlighted some sharp contrasts between Russia's metro networks.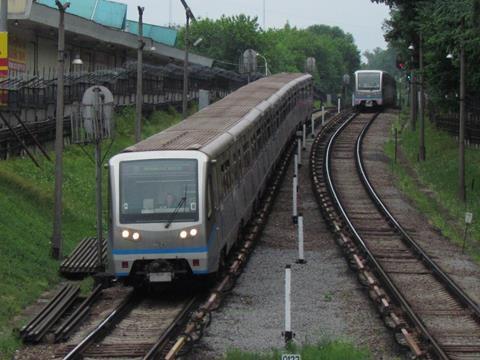 The role of metros in carrying spectators during the 2018 FIFA World Cup in Russia ranged from that of a midfield lynchpin in some host cities to fringe player elsewhere. Of the 11 host cities, six have metro networks, and it is no surprise that passenger numbers grew significantly at stations near World Cup venues.
In Moscow the average daily increase across the network was 300 000 passengers, in St Petersburg it was around 100 000 and Nizhny Novgorod doubled its regular daily patronage to more than 220 000 passengers on match days. Travel was free for holders of Fan IDs; in Moscow fans, journalists and volunteers used the metro an average of seven times a day, and one correspondent set a record by making 216 trips during the tournament. Moscow also pioneered live streaming of matches on board trains.
The success of these three cities follows from having stations near World Cup venues. Some were built specifically for this purpose. St Petersburg gained two stations on a 5 km extension of Line 3 that opened on May 26. Novokrestovskaya, built to serve the stadium, can handle up to 30 000 entering passengers/h. The city also put new rolling stock into service. In Nizhny Novgorod a 2·5 km extension opened on June 12 to serve the stadium. Both projects obtained central government funding: St Petersburg received 14bn roubles of the 37bn rouble cost and Nizhny Novgorod received 6bn roubles towards its 11bn rouble project.
Other host cities were not so lucky. Despite applying for federal funding, Kazan, Samara and Yekaterinburg received no central government money to extend their single-line metros. The World Cup venues in those cities were too far from metro stations for most spectators, who used other modes to visit them.
Since 2010 the federal government only provides funds for metro construction in connection with international sporting events. The only exception has been a 2·9bn rouble grant for Nizhny Novgorod as part of historical celebrations in the city. Aside from the World Cup, sport-related metro projects include a three-station extension in Kazan ahead of the 2013 Summer Universiade, for which the city received 10·5bn roubles.
Novosibirsk could receive federal funding towards a planned extension that would serve a stadium to be used in the 2023 World Junior IIHF Championships. Novosibirsk is the only Russian city with a metro that did not host any World Cup matches.
Costs and funding
Under Russian law, metros are municipal enterprises, and therefore only local authorities can invest in them. A loophole that allows exceptions will soon be closed when a new law enters into force; this has already been passed by both houses of parliament, and is awaiting presidential approval.
This approach marks a change from Soviet times, when the central government would fund all metro capital costs. With the transition to a market economy in the early 1990s, local governments were expected to contribute, and the central government's share was lowered to 80%, then to 50% in 1996 and 20% in 2002. In practice, the shares hardly ever reached these levels. For instance, they formed 6% of Moscow's construction costs in 2009, and St Petersburg received 7% to 15% between the early 1990s and 2008. Federal funding for smaller networks could still occasionally reach 50% so that work which had already been started could be completed.
All seven metro networks in Russia were designed to the same technical standards. The only principal difference is in platform lengths, which are able to accommodate trains of between five and eight 19·2 m cars. Most were built as twin tunnels with island platforms. Sub-surface sections date from the 1960s, and above-ground and elevated alignments remain rare, often having been built as experiments.
Tunnels, including stations and depots, cost an average of 10bn to 15bn roubles per route-km to build, with construction of an extension lasting five to six years. Cut-and-cover methods can save 2bn to 5bn roubles and up to three to four years. Additional savings could be made by using double-track bored tunnels, which first appeared in 2014-15 in St Petersburg, along with top-down station construction. At some stations in Moscow, platform arrangements are being introduced with a platform on each side of a single track so that boarding and alighting passengers do not use the same platform; this leads to a 15% to 30% saving on the overall construction cost.
Final costs vary with other factors such as ground conditions, but it is obvious that the price is steep even for the larger regions, which still have annual budgets of less than 200bn roubles.
Some networks expanding
With an official population of 12·4 million in 2017, Moscow is the largest city, and its 12-line network remains the country's most extensive. It is also the only one that is meaningfully developing. Despite the economic difficulties of the 1990s, its expansion was never interrupted. It had reached 311 route-km with 187 stations in 2012, when Mayor Sergei Sobyanin announced a 1tr rouble programme to build 150 route-km and 78 stations by 2020. So far 70 km and 34 stations have been built.
In 2017 Moscow spent more than 150bn roubles on metro construction, and in 2018 the figure reached 384bn roubles. In October 2017 the mayor's office agreed the final part of the revised funding package, covering 2018-20, valued at 2tr roubles.
By September, 54 km of tunnels and 34 stations were under construction, engaging around 50 000 workers and 33 tunnel boring machines. In a first for the country, a metro construction contract was awarded to a foreign firm in early 2017. Under a 23bn rouble package, China Railway Construction Corp is building a 3·6 km section of Line 11 with three stations, which is due to open in 2019. Meanwhile, ridership fell from 2·6 billion passengers in 2006 to 2·38 billion in 2016, even though 35 stations were added. It started to grow slowly again in 2017, when it totalled 2·44 billion.
The second-largest network is in St Petersburg, with 118 km and 69 stations, and a further seven stations under construction. Work on a sixth metro line appears to be stuck because of funding and land acquisition issues. Several extensions are planned, but funding remains uncertain.
The city's total annual budget is around 550bn roubles. Its 120·7bn rouble transport plan for 2018 includes much roadbuilding, with metro projects limited to 27bn roubles including the World Cup extension funding. Financing for further expansions could be restricted, in the light of more general budget concerns as well as an absence of approved projects, although up to 50bn roubles per year for metro construction is often talked about.
Ridership is steadily decreasing from a peak of 836 million passengers in 2008 to less than 727 million in 2017. This is despite five new stations opening. So even though some areas are more than 30 min from a metro station, a larger network might not add passengers, and only increase operating costs.
Russia's other five metros are much smaller, with between nine and 15 stations each. Only two consist of more than one line: Novosibirsk, carrying 80 million passengers per year, and Nizhniy Novgorod with just over 30 million passengers.
Kazan's metro was the most recent to expand, adding a one-station extension in August, but further plans are in limbo. Despite the much-discussed start of preparatory work for a second line, the draft of the city's new master plan does not include any further metro building until 2035, but focuses on light rail instead. The other cities may face funding difficulties. The only work taking place is in Samara, where builders are hastily adding exits at Alabinskaya station, which opened a few years ago.
Development of the smaller networks is further hindered by low ridership, with revenues covering less than half of operating expenses. Kazan, Nizhny Novgorod and especially Samara all have annual ridership of less than 2 million passengers per km. The figure could rise if planned extensions are built, but their completion seems unlikely in the foreseeable future. In the meantime, headways have lengthened to 10 or even 20 min off-peak, which further discourages passengers and creates a vicious circle.
Construction of initial metro lines in Krasnoyarsk, Omsk and Chelyabinsk began 2011-14, but in all three cities work was suspended shortly after it started. However, the tunnels that were bored necessitate support for structures above them. Krasnoyarsk spends up to 80m roubles annually on this, Chelyabinsk 1·3bn roubles and in December 2017 Omsk received 800m roubles from the regional budget towards such works. The three municipalities are thinking about using the completed tunnel sections for fast tram services.
Plans for metros in Rostov-na-Donu, Perm and Ufa were cancelled at the preliminary design stage.
Rolling stock
Fleets across the country consist of three generations of rolling stock. The majority date from the 1970s, whereas designs from the 1990s are used in Moscow and Kazan and even more recent designs operate in Moscow and St Petersburg.
The Moscow fleet is made up of more than 5 600 cars forming almost 700 trainsets, maintained in 18 depots (a further four are planned). The St Petersburg metro is operated with just over 1 800 cars stabled in six depots, with a seventh used as a maintenance facility.
The smaller networks count between 62 and 130 cars in four-car formations. The exception is Kazan, which has 20 Kazan cars in four-car formations and 27 articulated Rusich cars operated as three-car sets.
Metrowagonmash remains the largest rolling stock supplier. The Transmashholding subsidiary's main factory is in Mytishchi, and it also uses the facilities of OEVRZ in St Petersburg and TVZ in Tver. All export orders are fully or mostly produced at its main factory.
Neva trainsets for St Petersburg are manufactured by the Vagonmaš joint venture of Škoda Transportation and Kirovsky Zavod (this has no connection with the St Petersburg-based Vagonmash that went bankrupt in 2013).
Most components are sourced domestically. Some rolling stock in Kazan and St Petersburg uses components that have been imported or designed jointly with Czech partners. The Oka trains in Moscow and the Rusich trains in Kazan make use of Alstom designs and electrical equipment, and the Yubileyny trains in St Petersburg, as well as Rusich trains exported to Bulgaria, are powered by Hitachi traction motors.
In March Moscow announced that it would award a 51·2bn rouble contract for 74 eight-car MWM Moskva trainsets plus maintenance. To be delivered in 2018-19, these would replace the oldest E stock, and provide extra trains for the recent and coming extensions. Beyond this order, 40 more trains are expected to be ordered by 2020.
St Petersburg received 354 new cars in 2016-18 which run in six-car formations on Line 3. The city plans to buy several hundred more cars by 2027 to replace the eight-car fleet on Line 1.
Another recent customer was Nizhny Novgorod, which received 23 cars in 2017 to boost the existing fleet and operate an upcoming extension.
Few other cities are planning rolling stock acquisitions. The exception is Samara, which is to receive several second-hand Rusich trainsets from Moscow free of charge this year so that older rolling stock can be replaced.