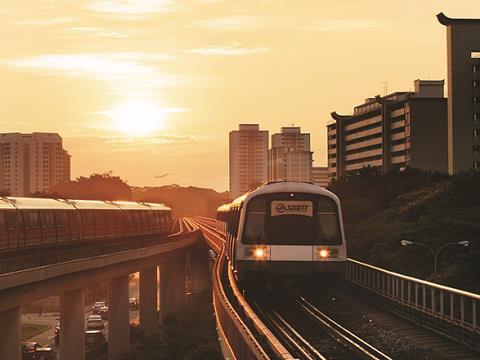 SINGAPORE: Metro operators SBS Transit and SMRT Trains signed a memorandum of understanding with ST Engineering on June 17 to share maintenance and engineering knowledge.
The three-year agreement allows the parties to explore various areas for collaboration that would add depth and breadth to their maintenance and engineering expertise. One area already identified for collaboration is in onboard electronic card repair and diagnostic support.
'This MoU underscores SMRT's intent to further strengthen our engineering capabilities and improve our rail reliability', said SMRT Trains CEO Lee Ling Wee. 'This collaboration will enable us to synergise the expertise, resources and new technologies of our partners in a cost-effective manner.'
'This MoU will further deepen our capabilities in rail engineering and maintenance as well as allow us to leverage on each other's strengths and experiences to develop innovative solutions to improve rail reliability and performance', SBS Transit Head of Rail Leong Yim Sing.