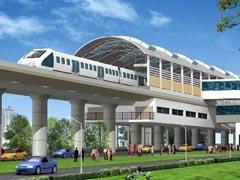 INDIAN Prime Minister Manmohan Singh laid the foundation stone for the Rs64bn Bangalore metro project on June 24, paving the way for the start of construction in October.
'I hope this project will become a milestone in Bangalore's progress', said the Prime Minister, adding that 'we must start planning for further expansion with an eye on the future needs of this vibrant city'. With its population now exceeding seven million, Bangalore is suffering from growing road congestion and air pollution.
The standard-gauge network will comprise an 18·1 km east-west line linking Mysore Road with Byappanahalli and 14·9 km north-south route from Yeshwantpur to R V Road. Around 6 km will be underground and the remainder at grade or elevated. There will be 32 stations in total, of which seven will be underground. Bangalore Metro Rail Corp expects to open the first phase in December 2009, and the remainder by 2011.
Funding for the project is being raised through a mix of equity and debt, including a Rs16bn soft loan from Japan Bank for International Co-Operation. The Indian government and the state of Karnataka will each invest about Rs15bn, and the remaining Rs18bn will be raised from banks and financial institutions.
A fleet of three-car trainsets will run at headways of around 4min, giving a peak hour capacity of around 40000 passengers/h in each direction. n