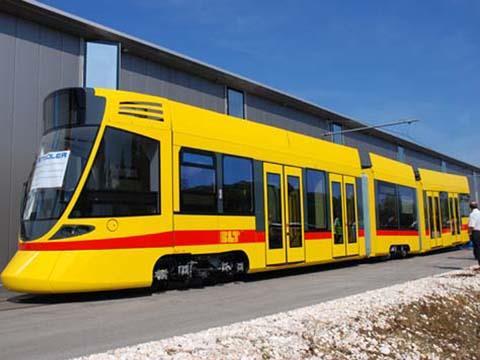 SWITZERLAND: Baselland Transport has placed a SFr74m firm order for 15 Tango trams for delivery in 2011-12, Stadler Rail announced on December 4.
A SFr276m framework contract for up to 60 trams was agreed by Basel city transport company BVB (20 vehicles) and regional operator BLT (40) in May 2006.
Four pre-series cars were delivered in 2008 for 14 months of testing and customer-feedback before the first firm order was placed. BVB is expected to follow BLT with a firm order for 15 to 25 trams, and orders for a further batch of 20 to 30 vehicles could follow in 2014.
The metre-gauge trams are 45 m long and 2 300 mm wide. They have a top speed of 80 km/h for use on BLT's longer-distance routes, and are capable of handling 8% gradients and tight 11·8 m radius curves.
Stadler has supplied Tango light rail vehicles for the Forchbahn in Zürich and Bochum in Germany, and is supplying six for RhôneExpress airport services in Lyon.