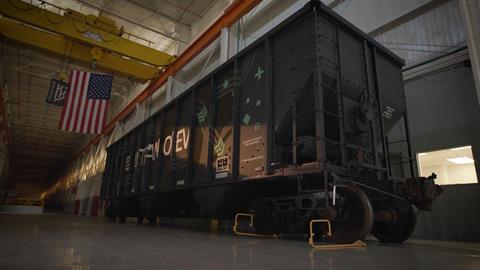 USA: Intramotev is to supply three ReVolt battery wagons to enable regenerative braking on a industrial railway.
The battery and automation technology company said this would be the first deployment of self-propelled battery-electric wagons in a traditional freight train, with regenerative braking and battery technology used to reduce locomotive diesel consumption and thus costs and emissions.
The technology will be deployed on a 27 km isolated line which Iron Senergy uses to transport coal from its Cumberland mine to Alicia Harbor on the Monongahela River in western Pennsylvania.
'Captive routes between mines and processing facilities have the opportunity to reduce carbon emissions and save costs through our proprietary battery-electric technology', said Intramotev CEO Timothy Luchini on June 6.
'Using our technology will help Iron Senergy become a cleaner, healthier operation in western Pennsylvania. We hope their success will inspire other rail managers' decarbonisation efforts across mining and steel mill transportation.'