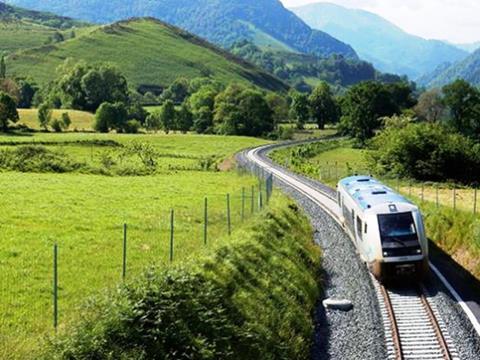 FRANCE: A report into the condition, usage and prospects of almost 9 000 route-km of secondary railway is to be handed to government before the end of March. According to Transport Minister Elisabeth Borne, the report will form part of a 'battle plan' to save a broad swathe of the French network.
Appointed earlier this month by Borne, préfet François Philizot is to undertake a case by case examination of the state of all of the railways falling under UIC classifications 7 to 9. The future of these rural railways has been cast into sharp relief by former Air France CEO Jean-Cyril Spinetta's landmark review into the future of the French rail sector published in early 2018. His report included a blunt assessment of their finances, finding that they accounted for 2% of ridership but 15% of costs.
Rail advocates and transport user groups such as FNAUT have been monitoring with growing concern the retrenchment of rural passenger services over recent years, with several routes seeing their trains suspended indefinitely, usually because maintenance costs are perceived to be too high. Most of the routes affected have been branch lines, but some cuts have gone deeper — since 2016 for example, there have been no direct trains between Clermont-Ferrand and Saint-Etienne, two important regional centres. Today it is extremely difficult to travel by direct train from one side of the Massif Central to the other.
However, the explosion of discontent manifested since late last year by the so-called gilets jaunes protestors has provided an unexpected source of solace. The protests started partly in response to mounting fuel prices in rural areas, and a related complaint from some in the movement was the perceived lack of alternative transport to the private car. This in turn has helped push the future of the secondary lines back up the political agenda.
Infrastructure manager SNCF Réseau believes that rehabilitating all the Class 7-9 lines to modern standards could cost around €700m, and the government has indicated that it expects the regions take on most of the financial responsibility for the routes in question.
To try to reduce this burden, SNCF Réseau is looking to develop a 'toolkit of methodologies' which the regions could draw on to keep costs down. This is expected to include options for low-cost signalling, intensive shuttle services using lightweight vehicles, and alternatives to ballasted trackforms.
A detailed examination of the liberalisation of the French domestic rail market will appear in the March 2019 issue of Railway Gazette International.