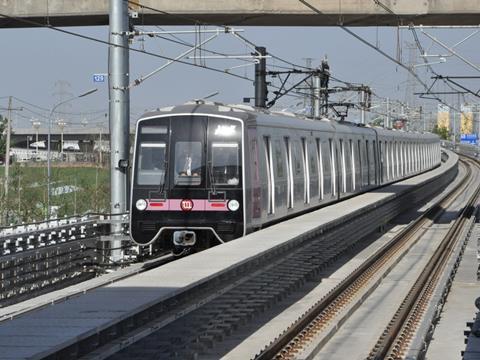 CHINA: Three more metro extensions have been opened for revenue service in two of China's largest conurbations.
Beijing commissioned two routes on December 26. The larger adds a further 16·6 km to Line 14, which is being built by the Beijing MTR Corp joint venture under a PPP concession agreed in 2012. Running from Jintailu to the high speed line station at Beijing Nan, the extension loops around the southeast of the city centre, adding nine more stations including several interchanges. Connections are provided to Line 1 at Dawanglu, Line 7 at Jiulongshan, Line 10 at Shilihe, Line 5 at Puhuanglu and Line 4 at Beijing Nan.
The new part of Line 14 connects with the eastern section connecting Shangezhuang - Wangjing and Jintailu which opened in Deceber 2014. Completion of the short link from Beijing Nan to Xiju will connect to the original western section to Zhangguozhuang which has been running since May 2013. Operated by Beijing MTR Corp with a minimum headway of 5 min, Line 14 is expected to carry 540 000 passengers/day when completed.
The same day saw the opening of a 10·6 km northern extension of Beijing's Changping Line from Nanshao to the Ming Tombs Scenic Area, adding five stations including stops at both Changping and its neighbouring Science Park. Through services from the Line 13 interchange at Xi'Erqi to Ming Tombs operate every 5 min, doubling the frequency previously provided on the initial section. Journey time between Changping and the city centre is expected to be around 40 min.
The opening of these two routes brings the Beijing metro network to 554 route-km. According to the City's Chief Engineer Yangguang Wu, seven further extensions are under construction, with eight more expected to start during 2016. These include sections of lines 7, 12, 17 and 19, a western extension of the Airport Line from Dongzhimen to Beixinqiao and a western extension of the Fangshan Line.
On December 28 Guangzhou Metro began trial operation on the extension of the suburban Guangfo Line from Hedong to Yangang, south of the city centre. This adds 7·3 km and four stations, including an intermediate stop at Shayuan which provides interchange with metro Line 8.
Electrified at 1·5 kV DC overhead, the Guangfo Line is operated by a fleet of 27 four-car Type B trainsets. An additional six sets were ordered from CSR Sifang in preparation for the opening of the extension.
A further section now under construction will see the Guangfo Line continuing east from Yangang to meet the southern end of Line 3 at Lijiao; this will have two more intermediate stops including an interchange to Line 2 at Nanzhou.