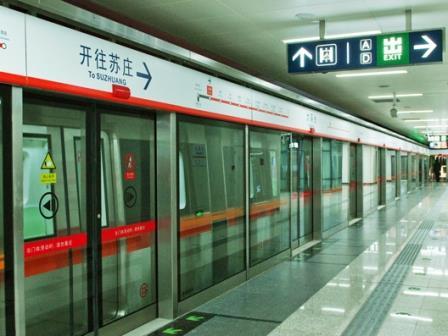 CHINA: Beijing Mass Transit Railway Corp opened five new lines in December, adding more than 100 km to the existing metro network.

The first new route to open was Line 15 on December 28. The 20·2 km route runs northeast from Wangjing West, with an interchange to Line 13, to Houshayu and has nine stations. A second section to Fengbo is due to open later this year.

December 30 saw the inauguration of four suburban metro lines serving Beijing's expanding suburbs. These run partly on a surface or elevated alignment and stations are farther apart than on lines serving the central area.

The 21·7 km Daxing Line connects the Line 4 terminus at Gongyixiqiao to Tiangongyuan in the south. Trains will run through from Line 4 and serve 11 stations on the suburban route. The 23 km Yizhuang Line starts at Songjiazhuang, the southern terminus of Line 5, and runs southeast to Yizhuang station with 14 stations.

The Changping Line is 21 km long with seven stations, running from Nanshao in Beijing's northern suburbs to Xi'erqi, where an interchange to Line 13 is provided. The fourth line to open was the isolated Fangshan Line between Suzhuang and Dabaotai in the southwestern suburbs. This 25 km line with 10 stations will be connected to the metro network in 2012 when it is extended from Dabaotai to Guogongzhuang, where it will interchange with the new Line 9 to National Library.

Beijing's metro network is now 336 km long, with 14 lines carrying more than 5 million passengers per day. Estimated annual ridership in 2010 was almost 1·6 billion. The rapid growth is set to continue as part of efforts to reduce Beijing's chronic traffic congestion. Work is due to start on a demonstration 'maglev light rail' Line S1 on January 10. This 10 km route linking Shimenying in Mentougou district with Line 1's western terminus at Pingguoyuan is due to open by the end of 2013.

A 19-line network totalling 561 km is envisaged by 2015, expanding to 1 000 km by 2010.
Line 15 serving the northeast suburbs opened on December 28.