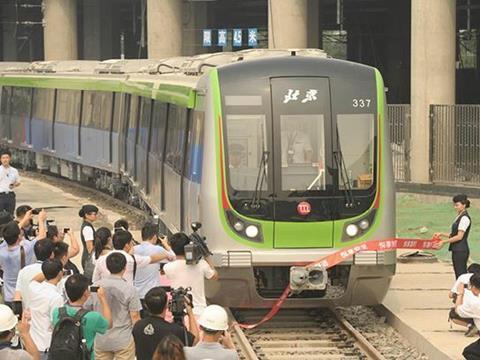 CHINA: A ceremony in Beijing on August 22 unveiled the first Line 16 metro train. According to the State Council, the eight-car trainset has the largest capacity of any rolling stock on the metro.
Test running on the northern section of Line 16, between Beianhe and Xiyuan, is to start later this year, with passenger services due to begin next year. Initial ridership is forecast at 80 000 passenger-journeys per day. Once the full north-south line is operational, it will run for 50 km between Beianhe and Wanping Town, serving 29 stations.
The Beijing MTR Corp joint venture of MTR Corp (49%), Beijing Capital Group (49%) and Beijing Infrastructure Investment Corp (2%) signed the railway systems, operations and maintenance PPP concession agreement in November 2015. This includes 30 years of operations and maintenance, as well as rolling stock.