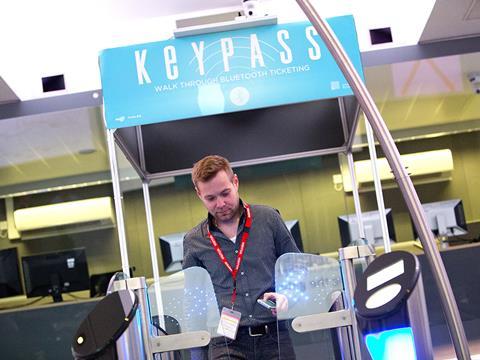 UK: Railway Gazette attended a demonstration of Bluetooth Low Energy fare validation technology at Thales UK's Crawley offices on February 9. Organised by rail standards body RSSB, this showed how Bluetooth could be used to improve the throughput of passengers through a ticket gateline at busy stations.

Among the applications being considered are Bluetooth-enabled wide access gates for mobility-impaired passengers, who could benefit from not needing to physically present a ticket, a 'frequent user' lane for peak hour commuters, or a priority gate for first class passengers on long-distance trains.

Branded Keypass, the demonstrator combines a commercially available 3D camera with an array of sensors able to detect mobile devices where an m-ticket has been activated. These sensors could 'listen' via Bluetooth for valid m-tickets, associate them with a given individual approaching the gateline, and open the gates to allow the passenger through. RSSB believes that this could increase station throughput as passengers would pass through the gateline without breaking stride, and without needing to physically present a ticket or device at a fare collection reader.

The Bluetooth detection, customer location and back-office software has been developed by ByteToken, the UK subsidiary of m-ticketing technology specialist Bytemark. The demonstrator uses a novel ticket gate designed by Thales which features a gantry-mounted 3D camera to track passengers through the gate. Thales believes this technology is more reliable than conventional sensor arrays, which struggle to detect the form of people passing through a gate. This in turn raises concerns about safety if the gate closes on passengers carrying large items of luggage for example. Thales is currently trialling the camera-enabled gate on the Delhi metro network and plans to install them on Amsterdam's Noord-Zuid metro line, where conventional sensors often miss bicycles being taken through fare gates because of the gaps between wheel spokes.

David Colgan, Project Manager for Keypass at ByteToken, says that advances in software mean that 3D cameras and Bluetooth can be combined to detect passengers approaching a gate to a high degree of accuracy. The demonstration showcased how multiple passengers could pass through the gate together, and how the system could differentiate between a pair of passengers passing through the gateline where only one m-ticket has been activated.

An important achievement in the development process is the ability to differentiate between a passenger with an active ticket passing through the gate and one walking adjacent to it.

For the demonstrator, both Bluetooth and wi-fi transmission were enabled on the handsets, plus an active m-ticket loaded via an app. ByteToken is optimistic that in future the data packets transmitted from the handset to confirm location could be handled by the Bluetooth protocol rather than wi-fi. The scope of the demonstration covers only the functional aspects of the location array and the gateline; fare collection and back-office ticketing processes are not included.

Colgan says that more work is being undertaken to refine the detection system; a particular challenge surrounds crowd management where, for example, one passenger in a crowd of 20 passes through a gateline without a valid ticket. In this case, an audio-visual alert would currently only be raised as the last passenger passed through, making it harder for revenue collection staff to intervene.

Nevertheless, ByteToken and Thales have had initial discussions with operators regarding a proof of concept trial in a live environment.