Book review.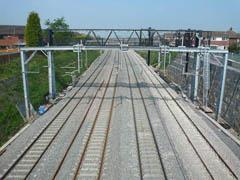 Edited by Prof Felix Schmid
Commissioned by the UK's Vehicle/Track Systems Interface Committee, with support from Network Rail, this handbook has been prepared as a means of disseminating 'understanding, knowledge and know-how on good practice' in managing the wheel-rail interface. Intended for managers and engineers in charge of mixed-traffic railways, as found in much of Europe, it was inspired in part by IHHA's earlier work covering best practice in heavy haul railway operations, with which there is inevitably a degree of overlap.
Assembled by Prof Felix Schmid from the University of Birmingham, the 500-page softback draws together contributions from leading experts across the rail sector, mainly from the USA, UK and Europe. Addressing wheel-rail interface issues from the technical, operational, and commercial perspectives, the handbook is intended to provide a holistic overview which overcomes contractual boundaries and encourages the use of whole-life approaches rather than short-term cost minimisation.
The initial chapters consider the various wheel-rail subsystems and interfaces, components and interactions, followed by sections on deterioration mechanisms, measurement, monitoring and maintenance. The final chapters look at economic optimisation of the wheel-rail system, practical applications of system optimisation and current practice in wheel-rail management. The book is liberally illustrated with photographs and diagrams, and each section includes copious references.
ISBN 978-0-952-9997-3-7
£46·50 plus postage from A & N Harris, 43a Palace Square, Crystal Palace, London SE19 2LT, UK. sales@anharris.co.uk