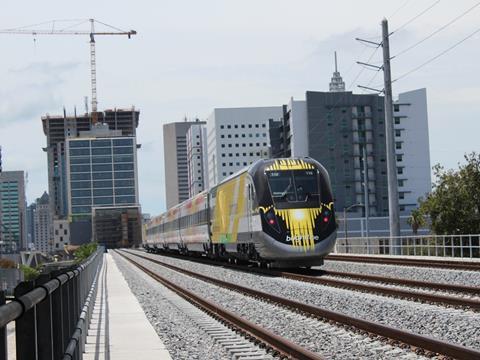 USA: The state of Florida has chosen to accept a proposal from inter-city passenger company Brightline to develop a route between Orlando and Tampa, largely following trunk roads.
Brightline had initially proposed the route as the third phase of its network; Florida Governor Rick Scott then issued a request for competing offers, but none were forthcoming.
Brightline is already running trains between Miami and West Palm Beach, and the company is intending to build an northwestern extension over a new alignment to Orlando International Airport, where a station site has already been developed. Construction work has yet to start, although the company still hopes to have it operational by the end of 2021.
The Orlando – Tampa proposal envisages a route from the airport station heading towards Tampa largely following the alignment of interstate highway I-4. An intermediate station at Lakeland is planned.
On November 28, a state government planning committee agreed that Brightline's proposal was 'reasonable', granting it permission to negotiate leases for the use of state-owned land along the Orlando – Tampa corridor. Brightline will now enter into detailed negotiations with property owners and Central Florida Expressway Authority. It will also seek regulatory approval from the Federal Railway Administration.
The Brightline project is the third attempt to develop a passenger rail link between Tampa and Orlando in the past two decades.
Brightline's passenger operations will be rebranded as Virgin Trains USA early in 2019 after the UK investment group took a minority stake in the business last month.