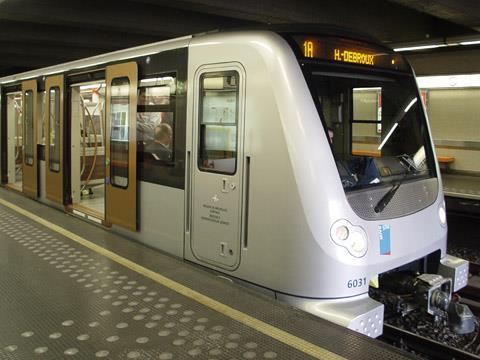 BELGIUM: Brussels transport operator STIB signed a contract for an additional six metro trains with Spanish rolling stock supplier CAF on February 25, with an option on a further seven.
The order is an extension of the original contract for 15 of the Boa trains which was signed in early 2004. These are now operating on Lines 1A and 1B (RG 10.07 p610).
The extra six-car trains are likely to enter service in March 2011. The option for a further seven is open until December 31 2012, allowing STIB time to evaluate its longer-term needs.
STIB carried more than 288 million passengers in 2008, 47% of these on the metro, and ridership is forecast to continue to rise. In an effort to increase passenger capacity by over 40% by 2010 headways on the east-west corridor are to be reduced from 6 min to 5 min, necessitating the acquisition of the additional trains.
The metro extension from Delacroix to Gare de l'Ouest is due to open on April 4. Once the link is completed the metro network will be restructured, with the east-west and inner ring metro axes complemented by north-south premetro lines 3 and 4 and the outer ring.
Line 1: Stockel - Centrale - Gare de l'Ouest (12·7 km)
Line 2: Simonis Leopold II - Ring - Simonis Elisabeth (10·3 km)
Line 5: Erasme - Centrale - Hermann Debroux (17·6 km)
Line 6: Simonis Elisabeth - Ring - Roi Baudouin (15·5 km)
The measures form part of a wider plan which includes the purchase of new trams and a significant restructuring of STIB's surface transport.