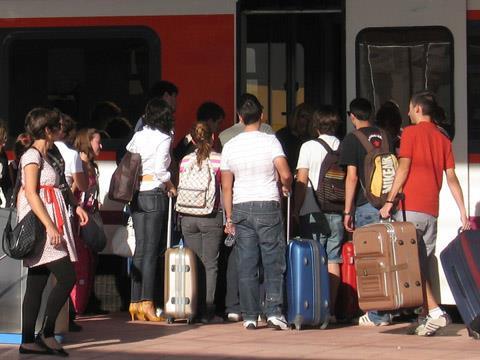 SPAIN: A group of 45 students from the EI CESI engineering university in Paris last month visited construction sites on the Valladolid – Burgos section of high speed line in northern Spain. Being built as an extension of the line from Madrid, the 1435 mm gauge route is ultimately intended to connect with LGV Sud Europe Atlantique at the French border near Irún.
Infrastructure manager ADIF arranged for the party, which included four members of the academic staff, to examine earthworks on a 10·4 route-km section between Villodrigo and Villazopique. They were able to inspect abutments for a series of viaducts that will carry the high speed line over local roads and the existing Madrid – Irún main line.
The party was joined by two prof-essors and four students from the civil engineering faculty of the University of Burgos as part of a partnership agreement between the two universities, and both groups were able to put questions about the technical aspects of the construction work to ADIF officials.
EI CESI intends to launch a specialist Masters course in Transport & Railway Construction in September; from the start of 2012 a double diploma option will be offered jointly with Napier University in Edinburgh, giving French students the opportunity to learn about the UK industry and study in English.