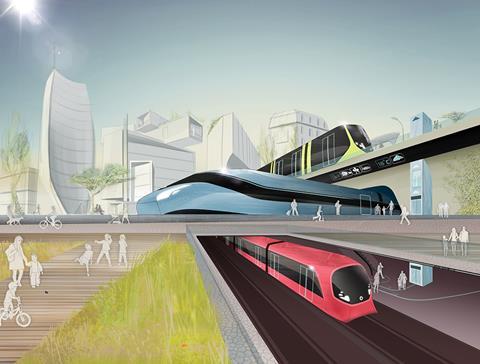 ALSTOM: 'Sustained growth, green and digital innovation, operational efficiency and an agile, inclusive and responsible corporate culture' are the aims of the Alstom in Motion strategic plan for 2023 which was unveiled by Chairman & CEO Henri Poupart-Lafarge in Paris on June 24.
Poupart-Lafarge said the Alstom's current 2020 strategy had made it 'the most global leader on its market, thanks to a strong geographical expansion'. It now aims to 'leverage innovation and efficiency' to expand 'in all our fields of activity and become the leader in green and smart mobility'.
Alstom said its objectives are to be the number one or two player in each market sector and region where it operates; to lead in sustainable and smart transport; to achieve a margin and free cash flow level among the best in the sector; and to improve its social and environmental impact.
As part of this, Alstom aims to become the 'undisputed leader' in the services sector, growing its servicing activities from 35% to 40% of sales by 2022-23. In the signalling sector it aims to gain market share through digitalisation and develop leadership by being a key player in the development of international standards. In rolling stock and systems the company is targeting geographical expansion and enhanced competitiveness.
The strategic plan identifies six priority areas for 'green and smart' activities: traction and energy performance; electric road vehicles; eco-friendly design and manufacturing; autonomous trains; data-driven and connected technology; and multimodality and flow management.
Among Alstom's medium-term environmental and social aims is a 25% reduction in the energy consumption of its products by 2025. All of the group's electricity is to come from renewable sources, and all suppliers are to be to assessed for environmental and social performance.
Alstom aims to improve its business efficiency by capitalising on its worldwide presence including its capacities in emerging markets, as well as the competitiveness of its new generation of products and services.
Financial objectives include a 5% annual growth in sales to 2022-23, outperforming the market. Adjusted EBIT margin is expected to reach around 9%, benefiting from planned efficiency measures. The conversion from net income to free cash flow should be above 80%, driven by capex stabilisation to around 2% of sales in the mid-term and the mid-term stability of working capital.
A 'disciplined' investment and external growth strategy is planned to support development and create value.