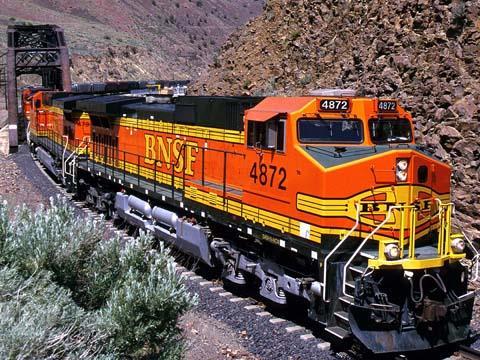 USA: BNSF plans to start testing locomotives using liquefied natural gas this year, Chairman and CEO Matt Rose announced on March 6.
The operator has been working with General Electric and EMD to develop LNG engine technology. According to BNSF, preliminary tests indicate that LNG-fuelled locomotives will be able to run further between refuelling than with diesel, and will have comparable haulage power.
'While there are daunting technical and regulatory challenges still to be faced, this pilot project is an important first step that will allow BNSF to evaluate the technical and economic viability of the use of liquefied natural gas in through-freight service, potentially reducing fuel costs and greenhouse gas emissions, thereby providing environmental and energy security benefits to our nation', said Rose.
Predecessor Burlington Northern experimented with LNG-fuelled locomotives in the 1980s, and more recently BNSF deployed a small batch of LNG-fuelled shunting locomotives in Los Angeles for several years. It now believes that 'improved economics and technology' make the use of LNG on long-haul services more feasible. BNSF estimates that it is the second-largest user of diesel fuel in the USA, after the Navy. The lower cost of natural gas, stemming from improved extraction technologies, makes it more attractive for long-distance services, notwithstanding the costs of conversion and new fuelling infrastructure.
'The changed market for natural gas in the United States is a critical part of our decision to explore it as a locomotive fuel', explained Rose. He added that locomotives will be retrofitted from late 2014 if the pilot engines prove reliable. This would come ahead of the introduction of the tighter EPA Tier 4 locomotive emission standards in 2015.