CSR Zhuzhou President Xu Zongxiang tells Railway Gazette International about the company's ambitions to become the world's largest rolling stock manufacturer.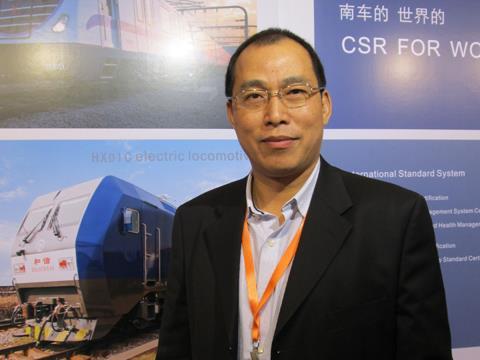 CHINA: 'To be number one, that's our dream', says Xu Zongxiang, Executive Director & President of CSR Zhuzhou Electric Locomotive Co.
He says the majority state-owned China South group is 'close' to displacing Alstom as the world's second-largest rolling stock supplier, and it aspires to overtake leader Bombardier 'soon' as part of its five-year plan. The ambition is to be a global 'top 500' company with turnover of US$22·8bn by 2015.
While China can offer low manufacturing costs, this is not CSR's only strength. It can now offer 'mature and proven sub-suppliers' in its home market, and also 'does not refuse to co-operate' with overseas suppliers.
The Chinese economic boom means CSR has 'a huge amount of capital' now available for investment, and it is on the look-out for potential acquisitions in Europe and elsewhere. 'We are open to suggestions', says Xu, who sees opportunities in Eastern Europe where there is a need for modern rolling stock but outdated local factories need investment. CSR is also looking at the UK market.
CSR's order book is currently dominated by China, but it is determined to grow the share of turnover generated in export markets. The Middle East is a particular focus, with 'great opportunities' for electric multiple-units, metro and light rail vehicles. The region has recovered from the global downturn, and offers fast project timescales which are particularly attractive to CSR.
CSR is already the largest supplier of electric locomotives, and has a significant share of the multiple-unit market. A 100% low-floor tram is under development, along with a light rail vehicle equipped with capacitor energy storage which will enable 1·5 km of wire-free running after a 30 sec charging time. Also planned is a 25 kV shunting locomotive with an onboard battery for running at up to 75 km/h beyond the wires.
Later this year CSR Zhuzhou will begin operating a prototype maglev on a 1·7 km factory test track. The three-car unit with space for 578 passengers has a design speed of 120 km/h, and is expected to enter commercial service by the end of 2012.