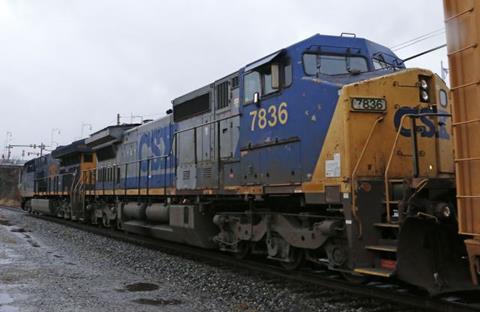 USA 'I'm excited about the progress we are making and am confident we have the right team in place to achieve our goal of becoming the best railroad in North America', said CSX Transportation President & Chief Executive Officer James M Foote, briefing investors on the company's 2017 results.
According to Foote, 'CSX's team of dedicated railroaders remains focused on creating value for our customers and our shareholders through operational excellence and the continued execution of our new operating plan.' He insisted that there was 'no turning back' on the introduction of the Precision Scheduled Railroading model brought to CSX by former President E Hunter Harrison, despite customer concerns leading to oversight from the Surface Transportation Board.
'CSX's performance continued to strengthen in the fourth quarter, building upon the scheduled railroading model that was instituted by Hunter Harrison', Foote explained. The company reported a full-year operating income of $3·7bn and an operating ratio of 67·9. When adjusted for the impacts of the Tax Cuts & Jobs Act and a restructuring charge, the adjusted operating income was $3·9bn giving an adjusted operating ratio of 66·3.
In its fourth quarter results released on January 16, CSX reported operating income of $1·12bn and net earnings of $4·1bn, including the $3·6bn net tax reform benefit and a $10m net restructuring charge. Excluding these two items, adjusted net earnings for the quarter were $573m. This was 6% down on the fourth quarter of 2016, which had included an extra week in the financial reporting calendar.
CSX has announced a $1·6bn capital programme for 2018, a 22% reduction on the $2bn spent in 2017 which itself was down on $2·7bn the year before. Foote said this was in line with targets set by Harrison before his death in December. 'As we become more efficient, we are able to achieve more with each dollar we spend', he explained.
Spending on infrastructure renewals would be broadly in line with the previous five years, he added. Work will continue in on bridge replacement projects, increasing yard capacity, and improving clearances to accommodate taller auto rack cars. However, Foote said CSX had spent over $600m on new locomotives in 2016 and did not need to order further units at this time.
The 2018 programme includes $200m for Positive Train Control, as CSX is scheduled to be 'hardware-compliant' by the end of 2018. The railroad said half of its PTC installation was already operational, and the rest was on track for completion by 2020.
Meanwhile, CSX has launched a review into the future of numerous less-used routes, amid suggestions that it could sell or close up to a third of its network, totalling almost 13 000 route-km. Harrison had indicated in November that every aspect of the business was under scrutiny, citing asset sales as potential way of maximising shareholder value.
Among the routes under review are the Boston & Albany main line in Massachusetts, parts of the Appalachian coal network, routes in Michigan and links into southern Canada, along with a number of smaller branches. Bids were invited at the end of January for an initial four sections of line, including branches in Illinois and Florida.