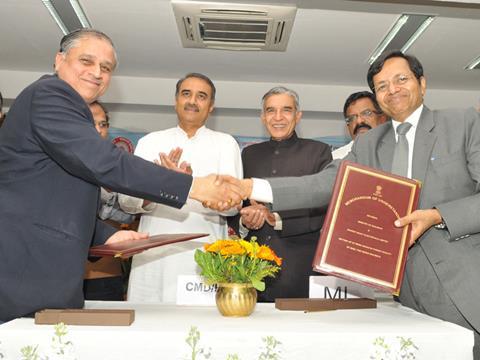 INDIA: Bharat Heavy Electricals Ltd and Indian Railways have signed a memorandum of understanding on February 25 agreeing to establish a factory at Bhilwara in Rajasthan which would help to meet the growing demand for local and outer-suburban electric multiple-units
The new plant in Bhilwara is to be funded by BHEL, with the government of Rajasthan providing land and the Ministry of Railways guaranteeing future orders.
IR estimates that the 15 000 route-km of electrification it plans for the next 10 years will create a requirement for a further 9 000 EMU cars. However, production is limited by capacity constraints at the Rail Coach Factory in Kapurthala which currently produces the trains, designated Main Line Electric Multiple Units by IR.
MEMUs offer rapid acceleration and braking, giving a higher average speed than locomotive-hauled trains and thus making better use of track capacity on busy routes. They are designed for high passenger capacity, and the latest designs incorporate toilets for use on longer routes.