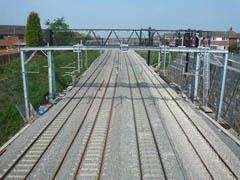 UK: Energy meters are being fitted to 25 kV 50 Hz electric multiple-units in service with UK operator London Midland, enabling the company to pay for actual rather than estimated energy use and monitor individual train consumption anywhere on the network.
The equipment is being supplied by FAR Systems of Italy, and installed by Interfleet Technology under a turnkey contract which includes data processing, reporting and analysis.
A voltage/current transducer in the pantograph well feeds into the energy meter inside the vehicle. The meter calculates minimum and maximum usage, the dates and times of energy usage and GPS-derived location. The information is transmitted to Interfleet's back-office systems via a roof-mounted GSM antenna.
UK track access agreements have been modified to allow traction current billing based on onboard metering. 'Energy meters and metered billing provides data and incentives to train operators to reduce consumption and therefore costs', said Michael Grace, UK Business Development Manager at Interfleet Technology. 'It provides future opportunities to ensure the most energy-efficient driving styles and to examine energy usage on specific routes.'
Interfleet is also developing Energyx, a generic energy metering system capable of accepting data from any meter compliant with UK Railway Group Standards.