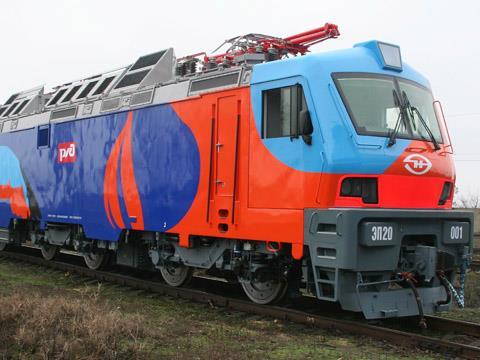 RUSSIA: This year is due to see the rollout of the prototype EP20 electric locomotive for RZD, being developed by Transmashholding and Alstom in association with the Velnii design institute.
The single-section dual-system loco is intended to form the basis for a family of asynchronous-motored passenger and freight locos for deployment across the Russian rail network (Table I).
The EP20 is designed to haul up to 24 coaches at 160 km/h or 17 vehicles at 200 km/h on straight and level track, compared with 19 vehicles at 140 km/h for the existing EP1M design.
The design features a high degree of modularity, using standard components and sub-assemblies that can be shared with other loco types. This should reduce the development time needed for each subsequent variant. The six-axle twin-cabbed loco is carried on three bogies, with the electrical equipment laid out evenly around a central walkway to ensure equal weight distribution.
The modular cab follows the latest ergonomic and safety design requirements, with electric windscreen wipers and rotary safety shields on the side windows. LED headlights and tail lights are fitted, together with electrically-heated rear-view mirrors to cope with severe weather. The cab is enclosed in a steel-framed safety cage, with crashworthy body elements able to absorb up to 4 MJ in the event of a collision.
Each two-axle bogie is provided with helical coil primary suspensions and flexicoil secondary suspensions, backed up by hydraulic dampers. The 1200 kW six-pole asynchronous traction motors are suspended from the bogie frames. Flange lubricators are provided to reduce wheel wear.
Four pantographs are provided - two for DC and two for AC operation. In addition, the main vacuum circuit breaker is powered electrically rather than using compressed air, to speed start-up times in cold weather. The main transformer includes six traction windings and a separate feed for the electric train heating. A separate traction converter is provided for each bogie, containing two independent IGBT drives for the two traction motors; these combine a four-quadrant input converter, drive inverter and braking chopper.
Primary braking is regenerative, but the loco has up to 4500 kW of rheostatic braking for use in the absence of line receptivit
Table I. EP20 derivatives proposed

Passenger
3 kV DC
Dual system
25 kV 50 Hz
Bo-Bo-Bo
EP2
EP20
EP3
Bo-Bo
EP4
–
EP5
Bo-Bo+Bo-Bo
–
2ESP40
–
Freight
Bo-Bo-Bo
E2
E20
E3
Bo-Bo-Bo+Bo-Bo-Bo
2ES2
2ES20
2ES3
Bo-Bo+Bo-Bo
2ES4
2ES40
2ES5
Table II. Key dimensions of the EP20

Power supply
25 kV 50 Hz / 3 kV DC
Gauge mm
1520
Length over couplers m²
2·5
Wheel arrangement
Bo-Bo-Bo
Maximum weight tonnes
129
Wheel diameter mm
1250
One-hour motor rating kW
7200
Continuous rating kW
6000
Maximum speed km/h
160 / 200
Starting tractive effort
450 / 350
Maximum tractive effort kN
325 / 250
Train heating supply
1200 kW at 3 kV
With Russian Railways announcing plans to buy 1250 locomotives in 2011-13, local manufacturers are teaming up for series production of more advanced designs. Boris Lukov investigates in the February 2011 issue of Railway Gazette International.