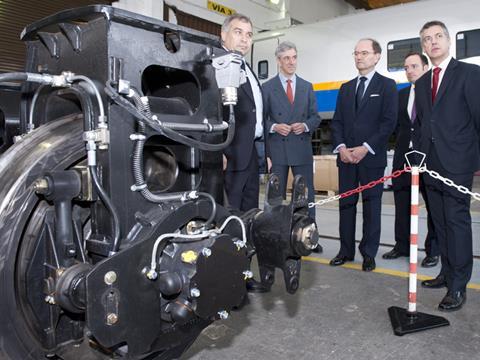 TALGO: Visiting the Patentes Talgo works in Rivabellosa outside Miranda de Ebro on March 20, President of the Basque regional government Iñigo Urkullu was able to inspect progress with a €33m expansion programme being undertaken by the Spanish rolling stock manufacturer.
Following the award of contracts to supply rolling stock to Saudi Arabia, Russia and Kazakhstan, Talgo began work in January on a two-stage programme to expand production facilities at Rivabellosa. Under the first phase, a new assembly hall covering 2 800 m2 is to be built, equipped with seven welding stations and four overhead cranes for the construction of bodyshells up to 22 m long. The second phase will see the building extended by a further 6 000 m2.
Talgo is also building a new painting hall covering 1 768 m2 and equipped with six spray stations each 24 m long. For the final assembly of trainsets prior to testing and delivery, seven tracks capable of accommodating 1 435 mm, 1 520 mm and 1 668 mm gauge vehicles are to be laid, together with a 40 tonne traverser running in a pit 184 m long to move cars between the new facilities and existing buildings.
Due for completion in summer 2013, construction is being undertaken by Inbisa. Design and project management services are being provided by Lantec, which is also supervising the construction of a new four-storey office block at Las Matas that will house all Talgo staff in the Madrid area.
RENFE has agreed to sell to Talgo for €16m its 49% stake in the Tarvia joint venture formed by the two companies to maintain 16 Series 102 and 30 Series 112 high speed trainsets under a 16-year contract running until 2027.