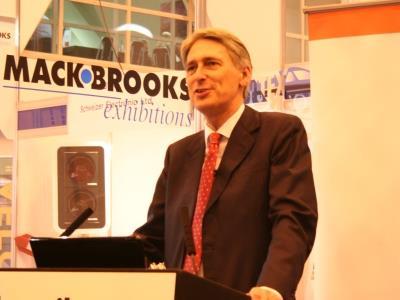 RAILTEX: 'In this tough economic environment, there are not many industries that can say they have a genuine sense of optimism, but the rail industry has the right to be proud', said UK Secretary of State for Transport Philip Hammond in a keynote address at Railtex 2011 on June 15.
But he followed up with an immediate caveat that 'this bright future will depend on the industry's ability to deliver efficiencies and reduce costs to make the railway sustainable.' Commenting that there was 'no better place than a trade show to take the pulse of the industry', Hammond described the event as 'a shop window for hundreds of companies and a great opportunity for discussion.' He said he had been delighted to see so many innovations in both infrastructure and rolling stock which offered the potential for significant cost savings.
Emphasising that the government's two priorities for transport were to support economic competitiveness and contribute to carbon reduction, Hammond suggested that rail was well placed in both respects, and could become 'the mode of choice, at least for inter-city travel'. This had been reflected in last year's Comprehensive Spending Review settlement, which he felt had 'far exceeded most people's expectations'. Out of £30bn to be invested in transport over the coming years, no less than £18bn was for rail, 'at a time when every aspect of public expenditure is under the microscope'.
Looking further ahead, he saw a need 'to refocus rail spending away from London to support the wider UK economy', which was why the government was consulting on plans to build High Speed 2 from London to Birmingham, Leeds and Manchester. But he warned that those opposing the project were 'articulate and very well organised', whereas the beneficiaries were 'more disparate and less clearly defined'. He urged everyone across the industry who supported high speed rail to register their views on the consultation website, and 'do not assume that it is a done deal'.
Although Hammond was keen to 'send a clear signal that we are investing in Britain's future', he warned that 'the government's commitment must be matched by a commitment from the industry to deliver cost reductions'. Describing himself as 'a railway realist not a railway romantic', the Transport Secretary warned that 'the level of public subsidy we have seen over the past decade is indeed a thing of the past'.
He welcomed many of the proposals from Sir Roy McNulty's Value for Money review, confirming that the government will respond with a White Paper in the next few months. He emphasised that 'one of the key challenges is the unsustainable growth in labour costs' where productivity gains had been disappointing. Hammond hoped that longer franchise terms would encourage operators to tackle inefficient working practices and invest in technology, adding that 'my department will do its bit' in terms of longer franchises and less micromanagement. Accepting that this would require 'a culture change for many people', he insisted that 'I am committed to deliver.'
Watch the Railtex TV video highlights of Day 2 from Newton Mann: