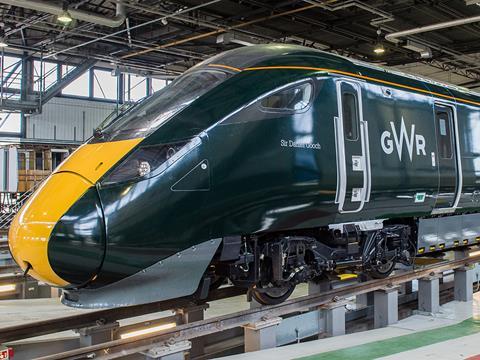 UK: Following the receipt of final bids earlier in the week, John Laing Group plc announced on March 13 that it had agreed to sell its 15% stake in the Intercity Express Programme Phase 1 to insurance and asset management company AXA.
The deal is worth is £227·5m net of costs to be paid in cash. This is in excess of John Laing's most recent portfolio valuation at December 31 2017, and the transaction is expected to close in Q2 2018, subject to regulatory approval.
IEP Phase 1 comprises a 27½ year train provision contract awarded by the Department for Transport in July 2012 to the Agility Trains West consortium. The availability-based contract covers the financing, supply and maintenance of a fleet of 57 Hitachi Intercity Express Trains for use by the Great Western franchisee. Following the transaction, the consortium will be owned by Hitachi Rail Europe (70%), John Laing Infrastructure Fund (15%) and AXA (15%).
IEP trainsets for the InterCity East Coast franchise are being provided under the IEP Phase 2 contract held by the Agility Trains East consortium of Hitachi (70%) and John Laing (30%).
'We are pleased to have realised good value for our investment and to have taken a major step towards our divestments guidance for the year', said John Laing CEO Olivier Brousse when the sale of the Phase 1 stake was announced. 'Our partnership with Hitachi continues through our investment in the IEP Phase 2 project for the East Coast Main Line with first train delivery expected by the end of this year.'