FRANCE: Manufacturing of new wagons has resumed at the former Arbel-Fauvet-Rail plant in Douai, following the acquisition of the business by wagon leasing group Millet SA, the company confirmed on November 12. Assembly of grain wagons began in October, and the construction of tank wagons is expected to restart in January.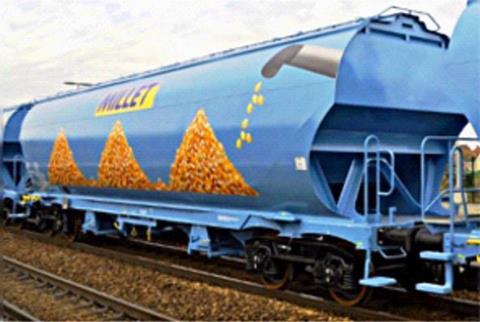 AFR had been acquired by India's Titagarh Wagons group in 2010, but was put into administration earlier this year after running into financial problems. The Tribunal de Commerce in Paris subsequently approved the transfer of the business to Millet at the end of August.
Expressing a desire to safeguard wagon manufacturing skills in France, group President Philippe Millet said the takeover would initially secure 109 out of the 122 jobs at the AFR plant. Millet committed to invest €8m, including €1m for a new paint shop and €5m to reactivate the component manufacturing line, as well as completely replacing the IT systems.
Following the resumption of assembly work, the two production lines are each expected to turn out around 200 wagons per year. Future expansion plans include the resumption of manufacturing of container flat wagons and cement carriers, which is expected to boost Millet AFR's annual production to around 500 vehicles and its turnover to €45m within two years.
As well as its lease fleet of 7 000 wagons and 24 locomotives, Millet acquired wagon repair company SDH Rail in 2014. The group became a train operator when it took over the Ouest Rail activities of EuroCargoRail and Colas Rail operations in ports along France's Atlantic coast.