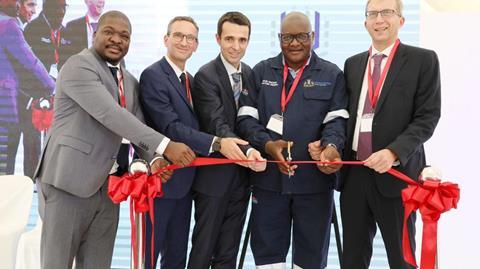 SOUTH AFRICA: The Alstom Ubunye joint venture's modernised factory in Ekurhuleni near Johannesburg was officially inaugurated on October 17, in the presence of Premier of Gauteng province David Makhura and the French Ambassador.
Alstom acquired a 51% stake in the former Union Carriage & Wagon and then Commuter Transport & Locomotive Engineering business in 2016, with CTE and IDC Corp as minority shareholders. Since then it has modernised the plant with the installation of equipment including advanced robots, undertaken staff training and obtained EN 15085 CL1 and ISO 3834-2 certification for the welding of safety critical components.
The plant has the capacity to produce 62 bogies, 62 end underframes, 20 traction cases and 10 static inverters per month, along with looms, cubicles and public address, CCTV and information systems.
'Since 2016 we embarked on a huge programme and investment to modernise the Alstom Ubunye factory in order to supply components for 150 trains to Gibela Rail, where the new PRASA trains are being built', said Alstom Chairman & CEO Henri Poupart-Lafarge. 'The unique transfer of technology from our sites across the world has created a rail factory hub with world-class competencies. We are confident in the future of South Africa and have established this industrial footprint with a long-term vision to be an African Rail Hub of excellence.'
Alstom Ubunye is one of two Alstom in joint ventures in South Africa, the other being the Gibela joint venture with Ubumbano Rail (30%) and New Africa Rail (9%) which is supplying X'Ttrapolis Mega EMUs to PRASA over 10 years.