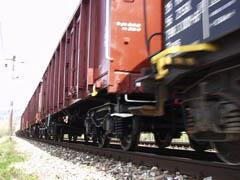 Strukton Rail has equipped its C750 ballast cleaner and P95 renewal train with a Schweizer Electric warning system comprising flashing lights and horns audible at any point around the machine. It is triggered when a train approaches on operational tracks adjacent to a work site, with the lights flashing until it has passed.
EAO has launched an electronic door button operated by turning a lever between two labelled positions, providing passengers with clear reassurance that they have locked train toilet doors.
Austrian Federal Railways has successfully tested a mobile magnetic noise receiver developed by Frauscher for use in rolling stock EMC measurement at speeds up to 200 km/h.
Hima-Sella has supplied train-mounted Doppler radar sensors to provide accurate speed measurement without being influenced by wheel slip on trains which will serve Taiwan Taoyuan airport, and for Singapore's future Downtown line.