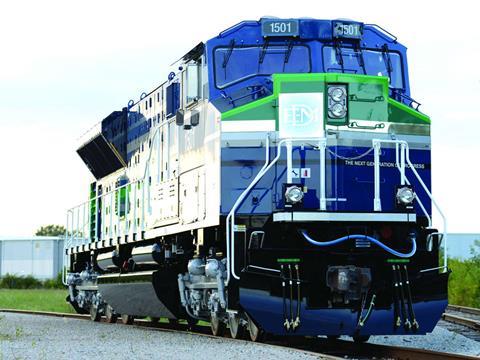 Announcing its Q2 2016 results on July 26, Progress Rail and EMD parent company Caterpillar said 'weakness continued in the rail industry across all regions' and was the most significant reason for a decline in its Transportation sector sales in the Europe, Africa, Middle East and CIS region and in Latin America. Rail industry sales in North America 'were about flat'. The company said its North American Tier 4 freight locomotive 'is on schedule for deliveries in the second half of 2016'.
Ukrainian Railways and GE signed a memorandum of understanding on July 21 for co-operation in the modernisation of UZ's diesel locomotive fleet. GE is to provide a TE33A locomotive for testing during August, and could also provide technical training and kits for modernising existing locomotives.
Trinity Industries' Rail Group has reported revenues of $693m for Q2 2016, compared to $1·11bn in Q2 2015. Operating profit was $89m, down from $228m on Q2 2015 owing to lower wagon deliveries and changes in product mix. A total of 6 065 wagons were delivered, 2 910 ordered, and the backlog of 40 205 wagons extends into 2020. The Railcar Leasing & Management Services Group reported revenues of $297m, up from $238m, with operating profit of $118m down from $138m in Q2 2015 owing to higher maintenance expense for the lease fleet and lower profit from the sales of leased wagons.
Kazakhstan's Aktobe Rail & Beam Plant plans to produce 100 000 tonnes of rail this year, of which more than 70% will be for national railway KTZ and the rest for export to Uzbekistan (13 000 tonnes), Tajikistan (5 000), Belarus (5 000) Georgia (4 700) and Kyrgyzstan (1 000).
SilverRail has announced a three-year deal to supply its SilverCore travel booking software to European corporate travel and expenses management specialist Concur.
The Rail Road Association of South Africa which has more than 100 corporate members has joined the Rail Working Group.
Wabtec Corp has announced Q2 2016 sales of $724m, down from $847m in the same period in 2015 with higher sales in the Transit Group being more than offset by lower sales in the Freight Group. 'Our Transit business is performing well, with revenue growth, improved profitability and a strong backlog', said President & CEO Raymond T Betler on July 25 'Our Freight business, however, continues to be affected by overall rail industry conditions and the sluggish global economy. In this environment we are focused on controlling what we can by aggressively reducing costs, generating cash and investing in our growth opportunities, including acquisitions.